Licensees :
-
-
SAMUEL FOREMAN
(Went to KINGS HEAD, Market Place as reported 26.05.1750)
here May 1746 to 1750
-
HENRY RAVEN
to October 1802
CHARLES BROWN
(Previously at Duke's Head, Quay)
27.10.1802
ROBERT WARNER
(Previously at Kings Head, Bungay)
25.03.1808 - 1819
......
1822
THOMAS ROE
1823
JOHN BROWNE
age 50 in 1851
1830 - 1851
CHARLES BROWN
1854
JOHN BROWNE
(John Brown 1856 & 1859)
Died June 1860
1856 - 1859
JOHN GARRATT
Age 50 in 1871
(Wife Maria age 38 and eight children)
1861 - 1879
MARIA GARRETT
Mistress of Hotel
1881
E GARRETT
(Angel Hotel TAP - Row 44)
1886
E CANDLER
1886
WILLIAM SHALES
1888 - 1892
J GILLINGS
(Angel Tap)
1894
JOSEPH STEEL
1900
GEORGE ALBERT BILTON
by 1903
(Thomas Jenkins)
(1904)
SEPTIMUS BEVEN
11.10.1907
Mrs THOMAS JENKINS
(Proprietor - not found as licensee in registers)
1908 - 1909
WALTER FIRTH CARNLEY
05.01.1917
HENRY MICHAEL EMERY
14.11.1922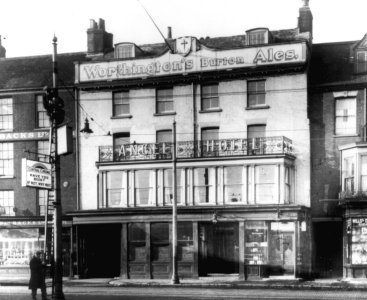 The Angel Hotel c1930 with Backs (PRINCE REGENT) to the left.

Family & Commercial Hotel.
Dated from at least 1652.

Located on the SE corner of Row 44, Howard Street and faced the Market Place. It was one of Gt. Yarmouth's oldest inns.

An auction sale took place here 24th May 1746.

January 5th 1804 - Captain Dickens of the Shropshire militia took on a considerable wager to walk the 47 miles from the Angel Norwich to the Angel Gt. Yarmouth and return, within 12 hours. He performed the task with apparent ease completing the journey in 11 hours and a half.

Amelia Cattermoul, kitchen-maid to Robert Warner was charged November 1809 of stealing sundry items of apparel, patterns, etc., from Gentlemen travellers frequenting the respectable house.

Thomas Roe thanked the Nobility, Gentry and Commercial Gentlemen for the favours they had received sine he entered the Inn - 31st May 1823.

The Executors of the late Mr. John Browne, deceased, instructed the sale by auction, of the Angel Family and Commercial Hotel, to take place on Wednesday 11th July 1860.
The premises comprised:-
On the ground floor:
Excellent commercial and coffee rooms in front, a luggage room, glass closet, spirit bar, bar parlour, keeping room, larder, a large kitchen, recently fitted up with a patent kitchener, steaming apparatus and every convenience for business; a knife house and coal cellar.
The Basement:
Wine and beer cellars.
Second Floor:
Three front parlours with moveable partitions to form a large dining room; four best bed-rooms, linen and glass closet.
Upper Floor:
Twenty excellent bed-rooms, a sitting room and water closet; at the back is a newly erected and substantial building, only just completed, containing noble and lofty Commercial Show Rooms and Billiard Room, with water closet and lavatory; eight excellent chambers' sitting rooms, vestibule and water closet, approached by a handsome staircase.
In the Yard.
A Tap consisting of a spirit shop, with private entrance, a parlour, tap room, two chambers and water closet and good ale cellars beneath.
Freehold.


Licence removed 14.04.1939 to the PRINCE REGENT, Market Place.

Became the British Restaurant 1942, serving
`Good cheap food at lunchtimes'.

Original building demolished July 1957.
See page 76 of `Gt. Yarmouth Archive Photos', pub. 1995