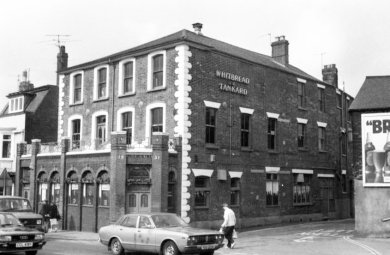 1970's photograph.
On Monday 11th January 1858, Mrs. Baldry, keeper of the Bridge Tavern, was ordered to put 2s 6d into the poor box for, on the previous day, having her house open during prohibited hours. Leniency was shown since it was a first offence, she was a widow and was infirm.
Address as 5 Bridge Road, Gorleston in 1861
4 & 5 Bridge Road in 1871
Mr. W. H. Francis, owner of the Bridge Hotel sought permission to install a weighing machine in front of his house, 7th March 1875. The request was refused. On Thursday 6th April 1876 Mr. Francis asked that the decision be reconsidered and it was granted. It was agreed that the device would interfere with ordinary traffic, but that disadvantage would not appear in the notification to appear in the newspapers the following day.
Closed January 1966.
Licence not renewed (by Whitbread)

Reopened post 1980.....
The HAVEN BRIDGE FREEHOUSE by 1995 featuring the LA BAMBA Nightclub.