Licensees :
MARY BASE
1824
JOHN DENNY
(& salvage company)
by November 1824 - 1830
HENRY WINSON DOWNING
1836 - 1839
HENRY ROPER
1844
GEORGE ROBERT JOHNSON
(uninhabited on census night 1851)
1845 - 1850
WILLIAM COLBY
at Marine Hotel Tap
& fish merchant
1850 - 1851
STEPHEN KEMP
1854 - 1856
Mrs MARY ANN KEMP
1858
ROBERT ROBERTS
(Marine Tap)
1858 - 1863
In court Saturday 3rd April 1858 for having persons drinking in the house at illegal hours on Good Friday - Case not proved.
(Marine Tap - Near the Jetty)
Fine of 10s Friday 30th January 1863 for serving customers at illegal hours on the previous day.
JOHN H GOULDER
Died 4th July 1869 - age 38
1863 - 1869
REBECCA E GOULDER
Age 48
1871
CHARLES BLAXELL
(C Blaxwell 1886)
1872 - 1892
THOMAS HERMAN
1900 - 1901
JAMES HENRY HARDY
by 1903
JAMES BANHAM
20.11.1903
CHARLES CAIN
30.11.1903
JAMES BANHAM
15.01.1904
ROBERT BUTLER SCACE
See opposite
08.07.1904
JAMES BANHAM
13.01.1905
HEZEKIAH EVERITT
19.05.1905
HARRY EDWARD FEEK junior
13.08.1915
JOHN OLIVER TRAILL
07.02.1919
ELIZABETH FLORENCE SMITHDALE
01.04.1919
ERNEST BAKER
05.11.1929
THOMAS HENRY BIRD
11.07.1933
HARRY BURGESS
12.12.1939
ARTHUR HAROLD FARROW
12.12.1944

GEORGE CHARLTON HODGE &
NIGEL PATRICK COOKE
30.10.1975
RAYMOND JOHN SMITH &
ALBERT GEORGE CAWTHROP
28.10.1976
RAYMOND JOHN SMITH &
CHARLES JOHN GLEASON
02.02.1978
DONALD STANLEY KIPPAX &
CHARLES JOHN GLEASON
04.12.1980
-
IAN CRAY
manager
1989
ROBERT GEORGE BALLS
09.1989 to
10.2004
MICHELLE BALLS
29.08.2007 to
present
-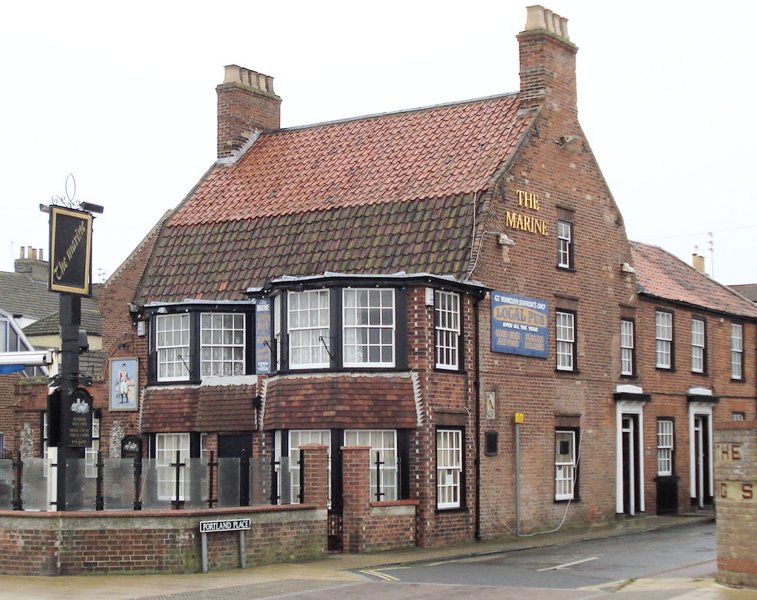 February 2010
Previously the
ADMIRAL ONSLOW.

MARINE TAVERN by 1824

On Tuesday 23rd November 1824 a large laden brig sprung a leak and was compelled to cut from her anchor and head for the beach. She took to the ground near the Royal barracks, about 200 yards from the shore, on the ebb tide. Strong winds and heavy seas threatened to engulf the vessel. The whole crew of eleven were successively rescued in perfect safety. Mr. Denny, of the Marine Tavern, near the jetty, was particularly conspicuous and foremost in danger, wading the water to breast high, to catch the individuals as they came ashore.
Mr. Fleming of the Fishing Boat also rendered essential service.

Offered for sale by Auction Thursday 10th September 1829. Then in occupation of John Denney, tenant to Joseph Harper. Lease (then set at the very low rent of £80 a year), due to determine on 25th March 1832 when it would become a Free House.
The entire site including Warehouse, Look-out Edifices, Buildings, Yards and Ground thereto measuring 100 feet east to west and 43 feet north to south.

Carrier John Byanton was charged with doing unnecessary labour, having delivered beer to the Marine Tavern on Sunday 25th November 1866. A delivery had been missed on the Saturday and the operation had only been made to make things right. He was dismissed with a caution at the Sessions held Tuesday 4th December 1866.

Address variously as Jetty, Beach (1846, 1865) & Seafront (1985)

William Starkins (beachman) is given at the
MARINE HOTEL TAP in 1871

Found as the MARINE HOTEL by 1869

On Friday 13th January 1905 the licence was transferred from Robert Butler Scace, who had absconded, to James Banham, who was holding a temporary licence for the house. For Messrs. Lacons it was said that their 130 houses in Yarmouth were generally well conducted.
The Chairman said that if the publicans were not tied to the brewery, better tenants would be found.
Licence transfer approved.
Changed to the MARINE after 1973.







See p. 27 - `Gt. Yarmouth Archive Photos ' pub. 1995