Licensees :
WILLIAM BIRD
age 66 in 1851
( Previously at the STAR INN )
1840 - 1854
Mrs. ELIZA SIZELAND
1854 - 1865
Mr. SMEETH
( Mentioned as late-landlord March 1867 )
c1866
Mrs. JANE PORTER
1868 - 1869
JANE PARKER ( Porter? )
manager
1871
JAMES SUTTON
1872 - 1883
R SUTTON
1886
Mr FENNER
( 9 Wellington Road - Royal Hotel Stables & Bar )
1886
EDWARD JULIAN HART
1888 - 1896
Yarmouth Hotels Ltd
1900
MARGARET GORDON
manageress
1901
GEORGE WILLIAM WEBB
by 1903
( J A HINTON - manager )
( 1904 )
JOHN WILLIAM NIGHTINGALE
22.07.1910
WALTER HOGARTH NIGHTINGALE
04.08.1911
ENOCH TAYLOR
25.07.1922
DORA JOSEPHINE HUMFREY
24.07.1923
MAURICE BERSET
03.03.1925
THOMAS PATERSON TAYLOR
16.06.1925
ALBERT ERNEST LARK
15.09.1925
CHARLOTTE TAYLOR
10.11.1925
DAVID CECIL THOMAS
19.12.1933
HARRY BURGESS
10.02.1939
THOMAS HAMILTON DENNY
08.07.1947
GERALD GLANFIELD BOYCE
24.08.1954
( Trust Houses Ltd )
( 1955 & 1959 )
PHILIP WALTER HUTCHINSON
10.12.1970
CLAUDE HERBERT TIMEWELL
11.02.1972
CLAUDE HERBERT TIMEWELL &
NORMAN GEORGE GREEN
20.07.1972
CLAUDE HERBERT TIMEWELL &
DOUGLAS WILLIAM PLUMMER
08.02.1974
CLAUDE HERBERT TIMEWELL
14.02.1975
RITA & GRAHAM DAVID JOHN ROSS
11.02.1977
-
-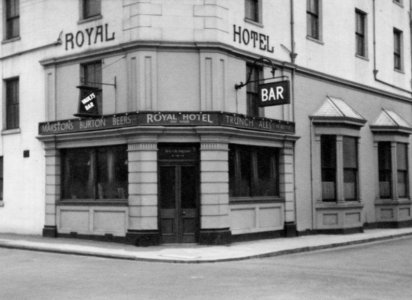 The
VAULTS BAR
c1930.
A Free House selling Marstons Burton Beers, Trunch and Worthington Ales.
BIRD'S ROYAL HOTEL & POSTING HOUSE
when opened 1840.
The Opening Dinner of Mr. & Mrs. Bird was advertised 9th May 1840 to be held on the 20th May 1840. Tickets 12s each.
Mr. & Mrs Bird, late of the Star Inn, announced 27th June 1840 that the Delightful Marine Residence had been completed.
Gentlemen seated in the Hotel would enjoy a Panoramic view of the Sea, with its undulating bosom studded by hundreds of vessels coasting within 300 or 400 yards of the house...........
The first `Seaside Hotel' to be built at the resort.

Visited by Charles Dickens in 1848.

According to an advertisement published 23rd November 1850 by Mr. & Mrs. Bird of the ROYAL HOTEL, with the VICTORIA HOTEL being closed, their establishment could provide Superior Accommodation at Moderate Charges.

Mrs Eliza Sizeland informed her Friends and the Public, 11th November 1854, that she had taken the Hotel and confirmed that Families, or Ladies and Gentlemen could be boarded by the week or month, very reasonably.

Partially rebuilt 1877. 100 bedrooms recorded 1934.

Closed for the duration of WWII according to a letter dated 26.07.1941.

Reopened 08.07.1947.