Licensees :
-
GEORGE S. SMITH
As given March 1862
25.03.1862
EDWARD SMITH
& corn merchant
1863 - 1864
HENRY CRANE
1865
Monday 4th December 1865 - Fine of 5s for having house open at prohibited hours.
GEORGE FRANCIS CRANE
1868 - 1869
HENRY P CRANE
1872
GEORGE FRANCIS CRANE
1875 - 1879
WILLIAM BERKLEY
1881
WILLIAM AUGUSTUS BERKLEY
1883 - 1886
WILLIAM ARTHUR DICKER
1888 - 1894
CHARLES HAMMOND
1896
Mrs MARY ANN WOODS
by 1900
FRANCIS JOHN JESSOP JOY
16.04.1915
MARY ELEANOR JOY
31.05.1921
ROBERT NORMAN SHORE
20.09.1921
ARTHUR GEORGE HAMMOND HUNT
07.04.1931
THOMAS HAMILTON DENNY
28.12.1932
GERALD GLANFIELD BOYCE
24.08.1954
(Trust Houses Ltd)
(1955 & 1959)
HAROLD DAVY SEMMENCE
01.11.1960
............ SHARP-BRASH (manager ?)
c1962
EDWARD KENDLE THACKERY
23.07.1963
LESLEY & GERTRUDE CAROLINE LEE (managers)
c1964/5
WYN & WILLIAM ALFRED JAMES STANTON
09.02.1968
NORMAN GOODE
11.12.1969
ERIC WILLIAM LEGGE (?)
10.12.1970
WILLIAM ALFRED JAMES STANTON
25.05.1971
COLIN ERNEST HOWES
08.02.1974
KEITH LIONEL PAWSEY
19.05.1977
-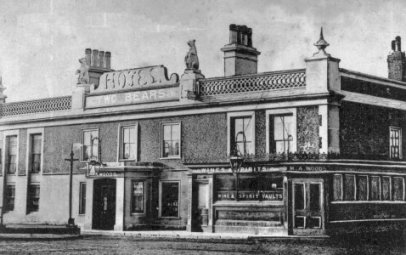 c1907
Rebuilt 1910, allowing better access to Cobholm.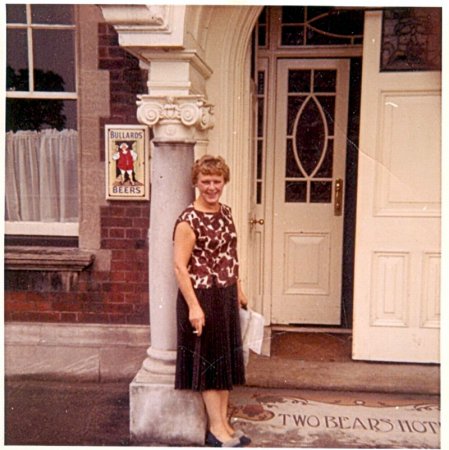 Gertrude Lee c1964/5
Image thanks to Vic & Mavis Johnson 09.2010
~

For Sale by Private Contract March 1862.
Comprising upper and lower Coffee-rooms, Refreshment Bar and Parlour, Ladies' Sitting Room and 8 Bedrooms.
Water Closet, Kitchen, Scullery, Washhouse and Larder. Wine, Beer and Coal Cellars, Taproom and other Offices.
Bowling Green, Kitchen Garden, Stabling for 7 Horses, Loose Box, Chaise-house and carriage Sheds.
The whole containing 0A 2R 33P and in occupation of Mr. George S. Smith as a yearly tenant from Lady-day.

Offered For Sale by Auction 3rd July 1862.
Description as given in March of that year.

~

Given as the BEAR HOTEL, High Road, Gorleston in 1871.

~
Plans to turn into `Supported accommodation for the homeless' opposed November 2011.

Demolition agreed 2013.
Site of a retail business 2014.

See page 71 of ` Gt. Yarmouth In Old Postcards ' Vol 2 Pub. 1992
& page 116 of ` Gt. Yarmouth In Old Photographs ' Pub. 1994
& page 86 of ` Gt. Yarmouth - A Second Selection ' Pub. 1996