Licensees :
-
* JOHN ELDRIDGE
(wife died during night of 12th April 1780)
1780
-
HENRY DAWSON
1819 - July 1820
MARK CARRICK
1830 - 1846
ABRAHAM Hall (?)
According to Slater
1850
SAMUEL BALLS
here 1850 according to Hunt
1850 - 1858
THOMAS M LARK
1861
RICHARD BAYFIELD SHORE
1863 - 1864
DANIEL RUDRUM SNOWLING
Died Q1 1867 - age 50
1865 - 1867
Friday 25th August 1865 - Fine of 20s and costs - see opposite.
Mrs. MARY ANN SNOWLING
Age 43 in 1871
1867 - 1872
JOHN SNOWLING
1875 - 1881
GEORGE WILLIAM HAMMOND
1883 - 1896
Mrs. MARION HAMMOND
by 1900
GEORGE HENRY HAMMOND
19.05.1905
Convicted 15.01.1934 of selling out of hours.
Fine £5 or 1 month in detention.
HARRY BURGESS
19.08.1952
CLARENCE BROWN
14.10.1952
JOHN EDWARD RIMMELL
17.12.1963
.
DEBBIE BEE
1998 - 2003+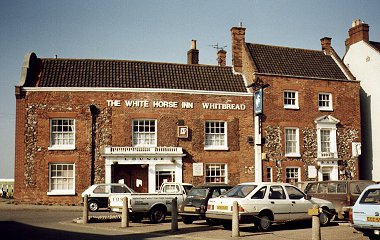 1986
The
GOLDEN KEYS
in the 1800's.
Address as North End in 1822, 1846 & 1854.
Church Plain in 1836.
8 White Horse Plain 1871
14 Northgate Street 1886
20 Northgate Street 1937.
Located on the South East corner of Row 7 Rainbow Corner to Northgate street.

~

22nd July 1820.
Henry Dawson thanked his friends and the public for their support and informed them that he had erected a Weighing Engine for their better accommodation and for its convenience and particularly its Correctness.

~

Mr. Larke gave his annual dinner on Wednesday 23rd January 1861.
Sir E. H. Lacon, Bart., M.P. presided.

~

Charged 25th August 1865 with having his house open at a quarter past twelve the previous night, Mr. Snowling proved that all those in the house were respectable strangers and no liquor of any sort had been drawn for them. The house was acknowledged to be very creditably conducted. However it was unfortunate that Mr. Snowling used some very unguarded expressions to the police constable who visited the house and as a consequence was fined 20s plus costs.

~

In a notification dated 21st March 1867, Mary Ann Snowling informed her Friends and the Public that she would carry on the business of her late husband Daniel R. Snowling.

~
Purchased by developers April 2004
and converted into 3 `Town Houses'.