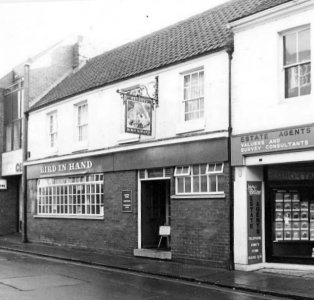 January 1982 - Thanks to David Apps.

Licensee John Langley served with the 34th Company Marines Chatham Division from 1789. On March 5th 1791 he was stationed on the Chatham, an armed Royal Navy tender, sailing with HMS Discovery, which was under the command of the famed Captain George Vancouver. The voyage ended on October 20th 1795 having been to the Pacific and the West Coast of North America.
Vancouver Island was named on this trip.
John Langley received 12 lashes during the voyage for quarrelsome behaviour and was again punished for sleeping on watch. He was discharged from the marines in 1803, being described as worn out and unfit for service.
Mr Langley took on the Bird In Hand soon after leaving the marines, he married twice having 4 children with his first wife and a further 10 with his second wife, who he married in 1812.
Damaged by enemy action 06.06.1942.

Demolished & site rebuilt by 1996.