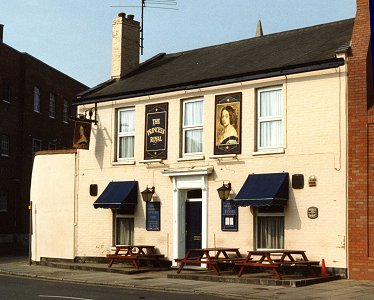 29.03.1993
Given as the
PRINCESS of WALES
1846 and in 1861.
A public weighbridge was included.
In 1883 charges for the weighbridge were:-
Roots, Coal & Gravel etc. at 4d per Ton
Hay at 8d per Ton
Beasts 1/- per head
Pigs & sheep 6d per head.
Bark or Straw 1/- per load
Vehicle weighed for free afterwards.
Also in 1883 it was advertised that Thomas W. Blomfield was the sole proprietor, offering Wholesale & Retail Hay, Corn & Cake :
Hay cut by Steam Power.
Bags supplied.
Agent for Cattle Traffic for the Great Eastern Railway.
Market Day licence granted 1956. This allowed opening on Tuesday afternoons until 4:00pm.
(Normal closing time was generally at least one hour earlier)