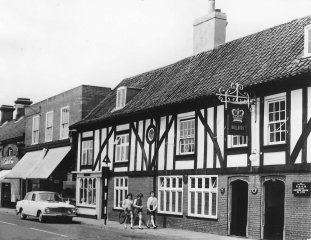 c1968
All those indebted to the Estate of the Henry Morley, late of the Crown Inn, Attleborough, were to settle their matters on or before 1st July 1778.
The Household Furniture of the Crown Inn were to be Sold by Auction Thursday 9th November 1780.
The items included:- Four Post Sacking Bottom Bedsteads, with check and other sorts of furniture, Feather Beds, Blankets and Quilts, Mahogany Dining Tables and Chairs, Looking Glass, Kitchen Furniture; Also three Post Chaises and Horse, about Thirty Dozen of Old Port Wine, with some White Wines and Spirituous Liquors - All to be sold without reserve.
Offered for sale by auction 16th February 1784
Said at the time to have `
within these few years undergone a good and thorough repair, and are fitted up in a very genteel and elegant Stile, and exceedingly well adapted either for an Inn or the Residence of a Sporting Gentleman.'

~
In 1830 the coach `The MAGNET' called at 6.15pm every evening on the way from Norwich to London.
It stopped again in the morning at 6.15am on the return journey to Norwich. (at same times as quoted at COCK Inn)
Carrier John Clarke left for Thetford every Saturday morning.
Vans from Norwich to London, by Deacon & Mack, called at the CROWN and the GRIFFIN every night and returned in the morning.
...............................................................
Listed in Cann & Clarke (Wymondham Brewery) documents dated 26th May 1876
Property included in sale of Wymondham Brewery to Morgans 11.05.1894.
MORGANS sales 1960 were 125 barrels of beer and 39 spirits.
Closed 06.07.1970 by Watney Mann (East Anglia) Ltd.