Licensees :
-
ROBERT BUCK
To August 1748
-
-
-
Mrs MARYANN MUSKETT
1851 - 1854
WILLIAM JOHN UPSTON
& furniture broker
& bill poster
Age 40 in 1861
(Kings Arms 1868)
*1861 - 1879
HENRY BARKER
& pork butcher
age 33 in 1881
1881 - 1888
WALTER LONG
age 56 in 1891
1890 - 1891
ROBERT SNELLING
1892
HARRY STANNARD
1896
WALTER LINGWOOD
1900
ROBERT J DANSON
age 25
*1901
EDWARD HENRY LING
1904 to 1907
-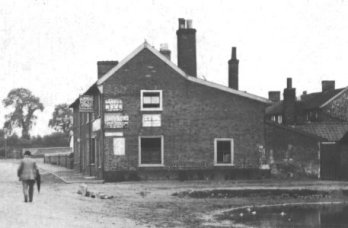 1905

Reported to let 3rd September 1748, being a commodious and well accustomed inn standing next to the Great Road from Norwich to London with convenient stables and about three acres of pasture adjoining, late in the occupation of Robert Buck.

~
For Sale by Auction Thursday 21st July 1853.
A Dwelling-house, used as a Beer House, known by the sign of the King's Head. With Paved Court Yard at the back; also Stable, Gig-house, Granary, Hay-loft, Coal, Wood and other Outhouses.
In occupation of Mrs. Mary Ann Muskett.

~

Given as KINGS ARMS in 1868, 1872 and in 1891 census.

~

Licence renewal refused Monday 12th February 1906.
Referred for Compensation.

~

Sold at auction on 18 April 1907.
Described as The King's Head Inn and sold by Messrs E Lacon & Co Ltd "in consequence of the extinction of the license". The tenant was Mr E Ling, whose tenancy was due to expire on 20 May.

Described as :-
Brick built and tiled, and contains - entrance passage, kitchen, sitting room, large parlour, part partitioned off to form shop, scullery with oven, pantry or cellar, two front and two back bedrooms with small landing.

Detached wash house with copper, pump and well of good water. Convenient clay & tiled outbuildings, comprising stable with 4 stalls and 2 loose boxes with loft over, large open cart shed and yard with driving entrance.
It was bought by Henry Daws for £200.

Thanks to Tony Bradstreet for the 1907 update.