Licensees :
-
JAMES GAYFORD
(also listed at White Horse)
1830
-
HENRY CHATTERS
& shoemaker
Full licence granted 03.09.1867
1863 - *1869
SAMUEL COOPER
1872 - 1879
ROBERT WHANT senior
& carrier
also found as Robert WANT
1883 - 1891
WILLIAM WADE PEARL
1892
MAURICE JOYCE
1896
WALTER CLABBURN
1900
JOHN BAYFIELD ABBS
& china dealer
1904 - 1906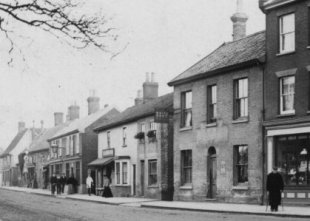 c1910

Lot No 2 at auction 11th November 1875, then in the occupation of Samuel Cooper, with 17 years lease remaining.
37ft 4in frontage, Front Bar, Bar Parlour, Porter Room, Kitchen, Storeroom, Scullery, Five Bedrooms, Seven Horse Stable and Chaise House.
~
There was no objection to the licence being referred at the East Harling Brewster Sessions held Monday 12th February 1906.

~
The first meeting of the creditors of John Bayfield Abbs, licensed victualler of the White Hart, was held on Wednesday 8th May 1907. It was heard that being unable to make a living at the White Hart he had taken out a hawker's licence, by which time he had lost all of his capital and was in debt.
His deficiency was £165 9s 10d.
Mr. Abbs said his failure was due to bad trade, the death of a horse, sickness in the family and the loss, 7th March at Hingham Fair, of a purse containing £28 in sovereigns.
He had previously been licensee at the CURRIERS ARMS and then the DUKE OF WELLINGTON, Norwich.
When the White Hart closed in 1906, he received the sum of £51 in compensation of which the brewers Messrs. Morgans demanded £24 in rent. Another writ was then issued by them for goods. The money he lost at Hingham was the remainder of his assets and included the remaining compensation money. He swore that he had not given the money to his brother to buy a horse. He had given up hawking.