Licensees :
-
WILLIAM RENTAL
1789
-
-
FRANCIS FOULGER
age 74 in 1851
(Died Q1 1860)
1836 - 1851
WILLIAM WRIGHT SCOTTOW
(Also as Scotter)
Went to LORD NELSON, North Walsham
1854 - 1869
GEORGE BUNN
& farmer 30 acres
Age 48 in 1881
1871 to 1881
GEORGE MASON
15.10.1881 to 1907
Fine 11.09.1886 of 20/- plus 16/6d costs for being open during prohibited hours.
FREDERICK WILLIAM LUBBOCK
16.11.1907
HORACE TOMBLING
(Died June 1962 - age 85 ?)
16.10.1909
GEORGE WILLIAM RIDER
(Died March 1930 - age 74)
22.10.1910
WILLIAM JARVIS
21.10.1911
JOHN HENRY JARVIS
16.10.1920
JOHN THOMAS WILLIAMSON FIELD
16.10.1937
Fined 1938 for supplying during prohibited hours.
SIDNEY OWEN
19.11.1938
WILLIAM JANNIS (?)
11.10.1941
SAMUEL ROBINSON
02.03.1948
to at least 1957
G. SMITH
1959 - 1963
J. PYE
1968 - 1978
-
-
-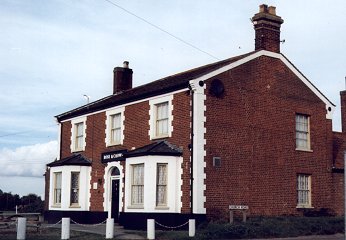 October 1995
Recorded in Register of Blofield, Taverham & Walsham Hundred licensed houses taken 9th September 1789.

Before the magistrates on Licensing Day, Saturday 1st September 1866, William Wright Scottow was advised that unless he put his house into proper repair by the next licensing day, the probability was that his licence would be cancelled.

On Saturday 11th December 1869, Mr. Scottow was described as unemployed, a bankrupt with debts of £288 14s 9d and assets of £69 9s 7d. In spite of this, he appears to be at the LORD NELSON, North Walsham by 1871.



In a letter dated 25th February 1954, the secretary to Youngs, Crawshay & Youngs Ltd. agreed with the Licensed Property Valuer that trade had been very good in the previous three years. It was pointed out however that trade had dropped in 1953, and in common with many other houses, `is very poor just now.'
The previous rating assessment had been fixed in 1939, and appeared to have been based on rising trade in 1938. It was to be noted that the tenant in 1938 had been fined for supplying in non-permitted hours.
| | | |
| --- | --- | --- |
| | Trade figures for previous years were :- | |
| 1937 = 29.5 barrels of beer | 650 dozen pints of bottled beer | 13 gallons of wines & spirits |
| 1938 = 95 barrels of beer | 1265 dozen pints of bottled beer | 54 gallons of wines & spirits |
| 1939 = 62 barrels of beer | 695 dozen pints of bottled beer | 15.5 gallons of wines & spirits |
| 1940 = 57 barrels of beer | 681 dozen pints of bottled beer | 8.5 gallons of wines & spirits |