Licensees :
-
-
SAMUEL HOLMES
1789 - 1794
-
JOHN CLEVELAND
Age 60 in 1841
1836 - 1841
ALFRED BOON
age 49 in 1851
& harness maker
& saddler
Died Q3 1860
1845 - 1860
Mrs AMELIA BOON
& harness maker
Died Q1 1879 - age 72
1861 - 1877
MARTIN BOON
& saddler
& harness maker
Died 20.01.1900
1879 - 1900
Mrs EMMA MINNIE BOON
Age 48 in 1911
1900 - 1912
ARCHIBALD OSBORNE INGATE
1915
Mrs MARY INGATE
1916
SAMUEL WHITE
1922 - 1929
ROBERT ROSE
1933 - 1937
-
........ DARLEY
c1960
SAMUEL RUDD
1962 - 1980+
CHRISTINE COLBY
c1990 - 2003
-
CHRISTINE COLBY
Dec 2006
-
-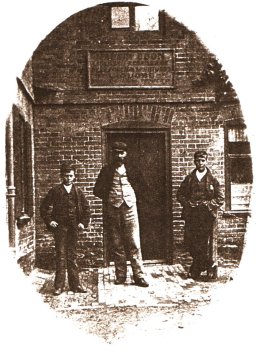 Martin Boon c1890
The East Suffolk Gazette of 21st March 1893 reported on an event in Beccles ....
ACCIDENT
Late on Friday night Martin Boon was driving Mr Sampson & Mr Flynn to the Horse & Groom. The cart was overturned in consequence of a heap of manure left in Caxton Road. It was too dark to see the pile, and no light was given of the danger. Mr Sampson received very serious injuries to his head, but he managed to walk to his house a short distance away. He was covered in blood and Mr Aldous the surgeon was called for assistance.
Image & added history thanks to Paul Griffiths, Peter Boon & George Boon.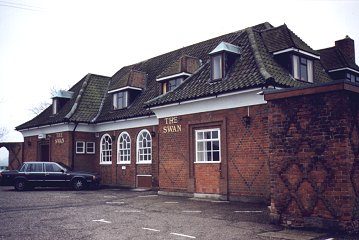 April 1998

Included in Loddon & Clavering Register taken 21st September 1789.

Shown on Bryants 1826 map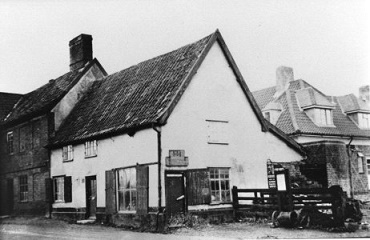 c1934/5 - The original house is seen at extreme left.
The central building is the Saddle Makers.
The new Swan is behind, nearing completion.
Image thanks to Peter Boon, via Paul Griffiths.

(Photograph taken from same approximate position as 1998 one above)