Licensees :
-
ELIZABETH HARRIS (Bell)
1789
JOHN SHORT (Bell)
1790
JOHN SHORT (Buck)
1792 - 1794
-
JAMES YOUNG
age 57 in 1851
& farming 100 acres
1835 - 1869
WILLIAM GRAND
& farming 66 acres 1871
& farming 67 acres 1881
(Died at the Buck Inn 17.02.1921 - age 90)
1871 - 1921
EDMOND B THORPE
1922
ROBERT GEORGE ALDIS
1925 - 1937
STANLEY DACK
by 1944
OLIVER HENRY FISHER (Harry)
c1964 - 1966
PETER FREDERICK MELLOR
11.10.1966 -
June 1987
-
LINDA JOHNSON
& RAY BADHAM
November 2010
SHELLEY COBB &
CHARLOTTE LEVERETT
November 2012
HENRY WATT
June 2015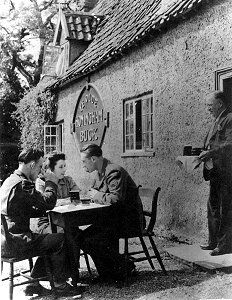 1944 - Stanley Dack bringing ale
to two USAF personnel and friend.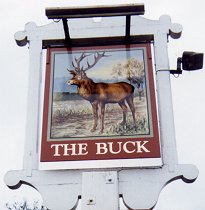 1996
Previously called the
BELL

.
Said to have been renamed after John Buck, an innkeeper mentioned in Parson Woodforde's diaries. However no licensee of that name yet identified at this house.
It is reputed that John Buck was a "Notorious smuggler".

Peter Mellor advises that the rent in 1966 was £50.00 per annum.
Following extensive renovations by the brewery in 1968
it rose to £200.00 per annum.

Later Rents....

1972 £320
1975 £1116
1981 £2004
1984 £3700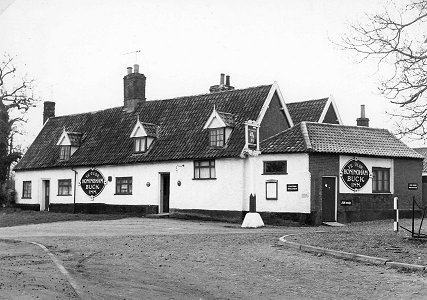 The Buck - 1966
Images kindly provided by Peter Mellor
Closed September 2014 - re-opened with new owners Lacons, Saturday 6th June 2015.