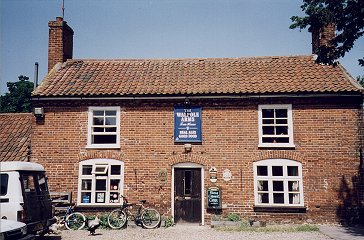 June 2000

W. Bush, servant to Messrs. Bircham of Reepham, brewers, was committed to the County Gaol June 1813 on suspicion of defrauding his masters of £30 received from J. Smith, innkeeper of Itteringham.


The Walpole Arms is mentioned in 1813 and the ARTICHOKE as late as 1820, however Jonathan Neville (www.norfolkmills.co.uk) remembers that in the late 1950's the older customers called the Walpole Arms the ARTICHOKE which appears to be earlier name of this house,



Robert Sparrow, Richard Ayton, James Buck jun., James Buck sen. and Frederick Tuck, all of Itteringham were charged Tuesday 18th October 1859 of breaking twenty-one panes of glass and one door at the WALPOLE ARMS, the property of the Earl of Orford. The information was given by Matilda Weight. Each paid a fine of 12s which included costs.

Bullards delivery list of c1962 gives landlord as Overton.
(Jimmy Overton worked for the Council highways department during the day)

Closed 03.06.1969 according to closure list by Watney Mann (East Anglia) Ltd.

Reopened as Freehouse, leased from Estate (pre 1980)

Operating as a `Gastro Pub' from 2001.

The only Norfolk pub to win the Michelin Guide Bib Gourmand award for 11 years. (2001 - 2011)

Business in administration December 2011.