Licensees :
-
SAMUEL HOWLETT
1777
THOMAS TWINER (?)
1794
-
property empty
1836
ROBERT NORTON
*1839 - 1846
JAMES SENDALL
age 59 in 1851
1851 - 1858
CHARLES EDWARDS
Age 28 in 1861
1858 - 1865
Fine of 5s and 6s expenses 28.08.1863 - see opposite.
JAMES SENDALL
1868 - 1872
DAVID JAMES CRISP
1875
JAMES CRISP
& farmer
1877 - 1885
Mrs HARRIET NORTON
Age 45 in 1891
1888 - 1891
ARTHUR BASEY
1892 - 1897
OSCAR DANIEL HEWITT
by 1900
PETER REEVE
04.01.1907
EMMA REEVE
08.02.1918
JOHN REEVE
12.04.1918
GEORGE GUYMER
10.10.1925
ALICE E GUYMER
11.02.1927
ERNEST SAMUEL LEEDS
12.10.1928
HERBERT WILLIAM DAWSON
16.10.1931
ERNEST SAMUEL LEEDS
26.05.1933
Note: The 1858 Post Office directory gives James Sendall as a beer retailer at Mattishall Burgh, but also names Charles Edwards junior at the
CROSS KEYS
, which is listed under Mattishall.
In 1863 Charles Edwards is named at the
CROSS KEYS
, Mattishall and as a beer retailer at Mattishall Burgh.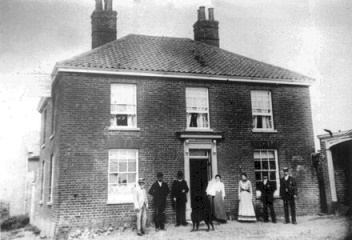 c1900
Sold at auction 27th January 1777 along with 6 acres of land.
Sale took place at the George Inn, Mattishall.

At the Petty Sessions held Friday 28th August 1863 all innkeepers' licenses were renewed except for that of Charles Edwards.
Having partaken rather too freely of the good things that he sold, he rather noisily requested that his licence be signed at once, waving it about in oratorical style. When reproved by the chairman for being intoxicated, he energetically declared that he was as sober as any of the magistrates present; but the bench, being of different opinion, suspended the granting of his licence until their next sitting and fined him 5s and 6s expenses. He was given into the care of Superintendant Amis until he had overcome the fumes of the liquor he had swallowed.


Address as Folly Lane 1868, 1869 & 1882.

Licence transferred to the WHIFFLER, Hellesdon, following closure September 1939.