Licensees :
-
JOHN TOWNSHEND
1776 - 1791
-
ROGER HOLL
age 65 in 1840
(Died Q1 1853 - Wife Jane died 13th May 1845, age 77)
1830 - 1845
HENRY BRETT
& horsebreaker
age 42 in 1851
1846 - 1851
THOMAS HOLLINGDALE
1854 - 1858
ELVIN STEBBINGS
age 47 in 1861
1861 - 1869
JOHN TOWNSHEND
31.08.1869 to 12.1870
WILLIAM EASTAUGH / EASTHAUGH
age 36 in 1871
20.12.1870 - 1872
WILLIAM BUCKINGHAM
1875 - 1877
WILLIAM WOODS
age 42 in 1881
1879 - 1883
Mrs SUSAN SAUNDERS
1888 - 1890
JAMES GILLINGWATER
age 47 in 1891
1891 - 1900
JOHN VENABLES
age 40
1901
HENRY ROUSE
(age 56 in 1911)
1904 - 1908
HORACE TOMBLING
1912 - 1916
ALFRED ERNEST LEE
1922 - 1925
FRED & LIZZIE WETHERINGTON
1929 - 1937
ALBERT SIDNEY ROBINSON
1937
..... ROBINSON
c1962
............ CHAMBERS
c1964
.
.
BRETT DRABBLE
from 12.1988
-
ROBERT & CLAIRE BULMAN
from 05.2008
-
DAVID FRANCIS &
JULIE DERGES
2015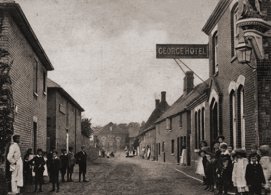 c1910
The Norfolk Chronicle of 4th May 1776 advertised....
`There will be a main of Cocks fought at John Townshends
at the George Inn.....
on Monday 13th May .......
Pit at eleven o'clock in the forenoon'
In 1830, Vans by Thomas Crowe travelled to Kenninghall every Wednesday at 8:00pm. Carrier Cook travelled to Kenninghall every Saturday.

In 1836 it was recorded that the house had been bequeathed
to the parish by an unknown donor.

In 1845 it was said that the George & Dragon was let for the sum of £14
and had been left in 1646 by William Juby, one half for the
incumbent curate, and the other for the schoolmaster, for teaching 6 poor boys.
By 1854 the yearly rent was was £30.

Although the licence was transferred from John Townshend to William Easthaugh on 20th December 1870, Mr. Easthaugh was certainly at the GEORGE HOTEL prior to that date, since on the 30th November 1870 William Johnson of New Buckenham broke a window and refused to leave the premises. Upon the evidence of innkeeper Easthaugh and the report of P.C. Kirkpatrick, who said Townshend was drunk and riotous, the accused was fined £1 1s 6d, which included costs.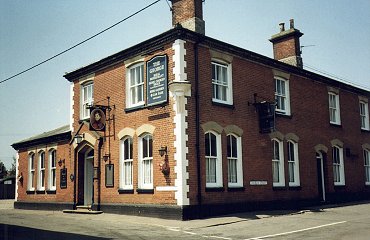 July 1996