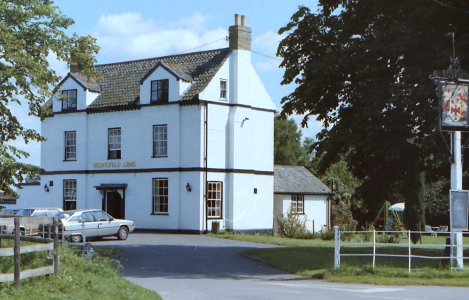 1993
For the benefit of his creditors, all the Household Furniture, China, Glass, Earthenware and other effects of Mr. James Taylor were to be sold by auction Thursday 12th, Friday 13th and Saturday 14th October 1815. Six feather beds, four post and other bedsteads and hangings, blankets, quilts, pillows and bolsters, about 12 pairs of hemp sheets, 18 pillow cases, dining and breakfast table cloths, napkins, towels, mahogany dining, breakfast, dressing and other tables. chairs of various sorts, steel fenders, fire irons, oven and furnace, servants' table and forms, Bath stove, copper and furnace (holds about eight pails) , copper frying pan, ditto boilers and saucepans, wash troughs and tubs, water pails, capital chicken coop, large bottle rack, wheel barrow, large quantity of fair stuff, ale stools, &c; china, glass, earthenware and many other articles too numerous to be comprised in the limit of an advertisement.
It was announced 11th December 1815 that James Taylor, victualler of Oxburgh assigned over all of his Estate and Effects, for the equal benefit of his creditors, Mr. Shelford Bidwell of Thetford and Mr. Thomas Wingham of Oxburgh.
All the Live and Dead Farming Stock, Household Furniture, nine excellent Feather Beds, Linen, Plate, China, Glass, Earthenware, Brewing Utensils and other Effects of Thomas Jeater were to be sold by Auction Friday 8th October 1858.
The house is referenced as the
EAGLE
1789, 1794, 1846 & 1915
SPREAD EAGLE
1783, 1835, 1845 , 1881 and 1891
The Bedingfield crest is an Eagle.
6 day licence to 2nd February 1954, then 7 day.