Licensees :
-
JOSEPH SNELLING
1836
SAMUEL ROUT
age 49 in 1851
& butcher
1845 - 1863
HENRY PAGE
1864 - 1875
JOSEPH KING FISHER
1877 - 1892
GEORGE KERRIDGE
1896 - 1905
WILLIAM JOSEPH FELLINGHAM
11.10.1905
FRED HURRELL
1908 - 1937
-
-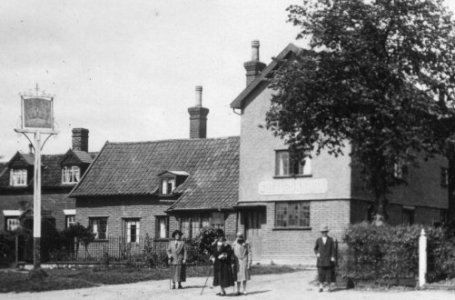 At the Petty Sessions held Wednesday 10th August 1864 bricklayer Aaron Banham was found guilty of a brutal assault on landlord Henry Page (reported as Penge). On the previous Saturday Banham had thrown Page to the ground and kicked him in the face. Banham was fined £2 and 18s costs, in default committed to Norwich Castle for two months' hard labour.
Being then charged with being drunk and disorderly on the same Saturday night, he was fined 10s and 14s costs, in default committed to twenty-one days' hard labour, the sentence to commence at the expiration of the other.