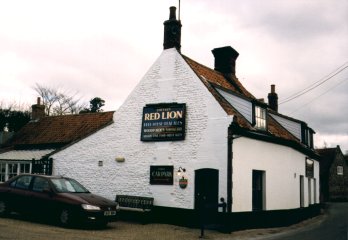 February 1998
Norfolk Chronicle - Saturday 09 February 1867
WALSINGHAM - Petty Session On Monday......
William Burgess was charged with having unjust earthenware measures on the premises. The defendant pleaded guilty, and was fined 9s.6d., including costs.
~
As the
BLACK LION
, Lot No. 26 in sale of Reepham Brewery estate Saturday 8th June 1878.
Then let to James Frankling at an annual rent of £12.
`A neat boulder built house containing -
Parlour, Tap Room, Upland Cellar, Parlour with shifting partition, Lean-to wash house, 5 Bedrooms, Yard with Stables for 6 horses with Loft over & Open shed. Also a piece of Garden on embankment to rear. - Freehold'.
Ceased trading 03.05.1965
Reopened as a freehouse 1991

In GOOD PUB GUIDE 1998