Licensees :
-
JOHN MUSSETT
here 07.09.1789
GEORGE FYBRIDGE
1794
-
WILLIAM CHAMBERLAIN
1836
JAMES FULLER
age 46 in 1851
1845 - 1865
Mrs SARAH FULLER
age 63 in 1869
1868 - 1881
WILLIAM FULLER
age 47 in 1883
& blacksmith
1883 - 1892
FREDERICK EAGLE
1896 - 1900
HENRY FULLER
1904
ARTHUR BULLEN
(see below)
1907 - 1908
JAMES TYLER
& blacksmith - age 56 in+ 1911
here by May 1910
- 1911
JOHN CHESTNEY
1912
THOMAS BONNETT
1916
EDWARD PETTS
1922 - 1933
FREDERICK RICKARD
1937
JOHN WILLIAM RAWLINGS
by 02.1950
ALFRED HARRY REMNANT
17.01.1955
GEORGE HERBERT JOHNSON
15.10.1956
WILLIAM DONALD ALLDAY (Bill)
21.09.1959 - 1973
MARY ALLDAY
to c1987
-
-
-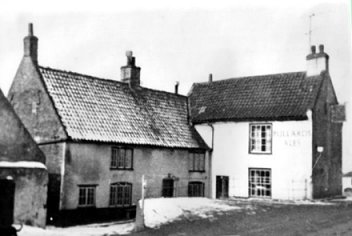 The original building.
Image provided by Paul Foster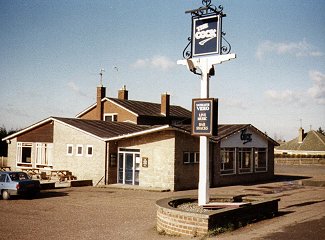 February 1988

Referenced 1774.

Shown on Bryant's 1826 map.

Rebuilt by Bullards 1963.

Named the BILABONG 1988
but back to the COCK by 1990's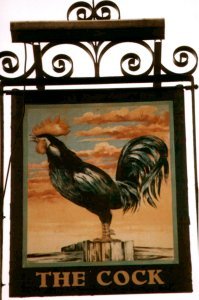 The sign 09.1999 - Image by Steve Shaw

Lynn Advertiser - 6 September 1907
Petty Session Reports - Grimston
THE LICENSING ACT.
Arthur Henry Bullen, innkeeper, West Winch, was summoned for selling beer in an unsealed vessel to a child under 14 years of age. Mr. R.A. Wilkin appeared for the defence and pleaded not guilty. P.C. Walker stated that he was on duty at West Winch about 2.30 p.m. on Saturday 3rd August, when he saw a child carrying a basket which looked as if it might contain a bottle. The child went into the Cock inn and witness followed and found she had been served with a pint of beer in a screw-top bottle which was unsealed. He called the landlord's attention to the fact, and he said: "Yes, I know I'm wrong, but they will keep coming''. Mr. Wilkin raised the defence of selling without guilty knowledge, and asked for leniency on account of the excellent character the defendant bore. Supt. Flint said he did not press the case. Defendant had good credentials. Fined £1/4/- inclusive.
With thanks to Stan Langley 05.2010