Licensees :
-
-
-
WILLIAM MOY
1868
WILLIAM ELSEGOOD
22.04.1969
THOMAS DYBALL
10.10.1874
ROBERT SIMMONS
26.07.1876
Convicted 23.10.1879 of selling out of hours.
Fine 5/- plus 17/6d costs or 7 days detention.
SAMUEL EASTGATE
10.10.1885
On Saturday 30th October 1886 , Mr. Eastgate was summoned for assaulting Alexander Trimble of Clifton Street. Accepting that there had been some provocation, the Bench fined Eastgate £5 including costs, or one month in prison.
FREDERICK WILLIAM BURCHAM
13.06.1905
CAPTAIN GENT WAKEFIELD
21.06.1932
Convicted 27.03.1941 of permitting a child to be in the bar.
Fine 10/-
Convicted 21.01.1942 of 3 cases of selling out of hours.
Fine £3 on each case
Convicted 21.01.1942 of 3 cases of allowing consumption out of hours.
Fine £3 on each case
JAMES WILLIAM HINDES
08.05.1945
JAMES WILLIAM COOPER
26.04.1977
JACK & JEAN KERR
managers
08.1993
RODERICK JAMES GOODINGS
27.06.1995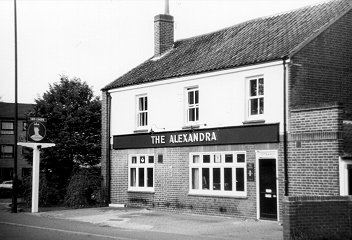 c1984

Full licence granted Tuesday 25th August 1868 to William Moy.

The Mortgagees of the Bankrupt Mr. George J. Bell instructed the Sale by Auction, during June 1868, of the Recently Erected Freehold Property comprising Five substantially built Dwelling-houses and the Alexandra Public House. Two of the Dwellings were unoccupied.

On Saturday 23rd October 1886 Alexander Trimble of Clifton street was accused of assaulting landlady Elizabeth Eastgate. An argument had arisen over payment of a pane of glass, broken by Trimble on a previous occasion. When he became abusive he was asked to leave and as Mrs. Eastgate held the door open, he struck her in the face. Mr. Eastgate was called and Trimble struck out over the bar, landing a punch to the landlord's chest. Mr. Eastgate then took up a `life-preserver', a 2ft 6in stick and hit Trimble two or three times about the head.
For the assault on Mrs. Eastgate Trimble was fined 10s with costs of 8s.
The counter-charge of an assault upon Mr. Trimble by Mr. Eastgate was adjourned for a week since the nature of injuries were considered so serious that the Bench thought that they could not deal with the matter until Mr. Trimble was out of danger.

Damaged by enemy action 27/29.04.1942.
Morgans sales for 1960 were :-
143 barrels of beer
46 spirits.

A collection of over 1400 keyrings, with fobs, on display from 1983, during the time of Jim and Barbara Cooper

Closed June 1997 with a note on the door reading "Closed due to unforeseen circumstances" .........converted to a doctors surgery to open September 1998.