Stands on the corner of Gladstone Street and Stafford Street.

Address 1865 as Regent Street?
In November 1990 a new five year lease was accepted from Courage at £13,200 per annum. In 1991 GrandMet sought to renew the lease for twenty rather than five years and increase the annual rent to £32,000. In December 1994 the Appeal Court ruled that Courage/GrandMet could not impose a twenty year lease. Licensee James `Tiny' Little won his three year case against Courage & Grand Metropolitan subsidiary Inntrepreneur Estates.
In January 1995 it was reported that Inntrepreneur threatened to take the case to the House of Lords....... However the December 1994 ruling was confirmed by February 1995.
House sold to tenant September 2nd 1996.
Setting out single-handedly in a rowing boat from the Canary Isles at 10:00am on 20th January 2005, Tiny Little arrived at Antigua on the morning of 17th May 2005. The aim to raise £50,000 for a depressed youngsters trust.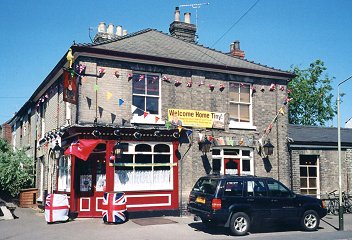 2005