From an original painting by M. Rigg 1905
Reputed to have previously been a 15thC leper house, then almshouse and later workhouse.
The house was engaged for Freeholders, the Friends of Sir Edward Astley, Bart. and Thomas William Coke, Esq. on Wednesday 14th April 1784, being the Day of Election. (One of 53 such houses in Norwich)
30th January 1813, Mr. Ann Sharpe thanked the friends of her late husband and sought their continuance of favours, since she intended to carry on the business.
Part of the Household Furniture of Mrs. Sharpe, at the Artichoke, was offered for Sale by Auction Thursday 28th September 1815.
To Let with Immediate Possession, January 1858.
Rebuilt 1932.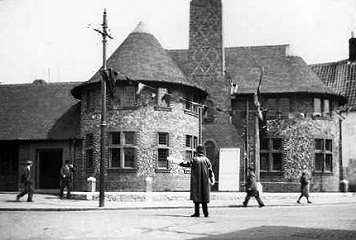 01.05.1932
Image by George Plunkett - shown by permission - Copyright © G.A.F.Plunkett 2002
Present house still displays some Youngs, Crawshay & Youngs windows.