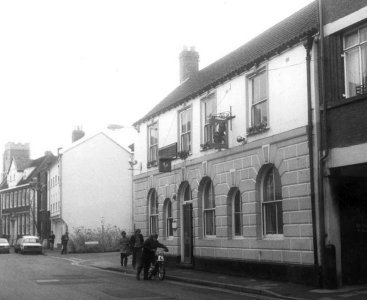 1980
Stands on the site of Blackfriars Convent.
Said to originally been the house of a worstead merchant.
A half a crown reward was offered by the landlord of the Black Boys, St. Clement, 23rd April 1709, for the person returning a piece of gold, lost from a boy's neck.
It was advised 19th March 1732 that William Sudbury had removed to the
UNICORN
, St. Mary's.
Advertised 1st May 1760 To be Let or entered Immediately. An ancient and well-appointed drawing house. Enquire of Mr. Charles Weston.
<Banker?>
The house was engaged for Freeholders, the Friends of Sir Edward Astley, Bart. and Thomas William Coke, Esq. on Wednesday 14th April 1784, being the Day of Election. (One of 53 such houses in Norwich)
Given as the
BLACK DOGS
1852.
Damaged by enemy action 27.04.1942.
House reopened 29.12.1953.
(The `Tonic Sol Fa' notation system was originated by Sarah Glover [1786 - 1867] and she founded a school for gentlewomen in Black Boys Yard.)