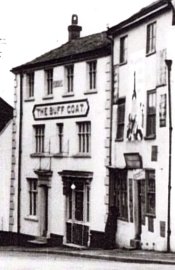 c1960
Given as the
SUN & BUFFCOAT
1763.
Sold by auction at the Angel Inn, Norwich 21st January 1793, then in the occupation of Mr. Potter.
(A notification of sale, published 19th January 1793 gives the occupant as Mr. Postle)
For Sale by Auction Tuesday 23rd May 1848 at the instructions of the Executors of the late Mr. John Wymer, deceased.
Including substantially built Stables, Granaries. Hay-chambers, Gig-houses, Cart-lodges, Straw-loft, other Outbuildings and a large Yard.
For the third year, the cage bird show was held Monday 22nd October 1906. There were more entries than previously and the qualities were better.
Morgans confirmed by letter 19.08.1961 that the house had closed 3 days earlier.

House demolished 1964.