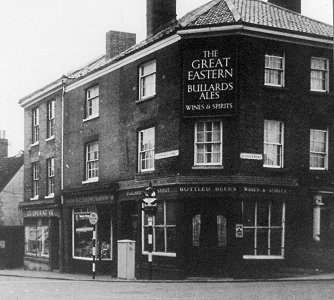 c1960
The
BEEHIVE
to c1865.
Given as the
GREAT EASTERN STORES
1865 and as the
GREAT EASTERN WINE VAULTS
in 1868, 1904 & 1931.
The licence registers suggest that the name was officially changed to the GREAT EASTERN 03.08.1881.

The house held an early morning licence (renewed August 1897) for the ``benefit of employees at the Carrow Works and Victoria Station.''

A 6 day licence restriction applied from 1873 when the then landlord and landlady objected to the house being open on a Sunday.
The restriction was removed Tuesday 27th August 1901, although there was an objection from Mr. James Gaze who ran a lodging house for actors in St. Stephen's Square, who said that seven day trading at the house would be a great inconvenience.

Closed 21.05.1962 and demolished to allow the St. Stephens redevelopment.

(Bullards lease expired by 1963)