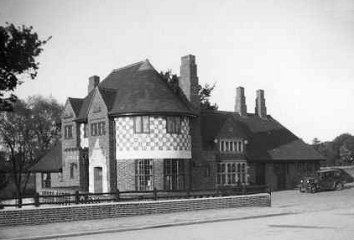 19.05.1939
Image by George Plunkett - shown by permission - Copyright © G.A.F.Plunkett 2002
Beerhouse keeper John Daynes was fined 1s and costs on Wednesday 7th November 1866 for having house open before half-past twelve on the previous Sunday.
Landlord John Daynes was accused of keeping his house open on Sunday 13th January 1867, at prohibited hours. Although people had been found drinking in the house, it was admitted that none of the doors were open or unlocked. Since the prosecutor had to show that the house was open and it was plainly closed, the case was dismissed.
Full licence granted Tuesday 25th August 1868 upon it being heard that the previous year it had been refused on the grounds of past summonses, but the house had been well conducted for the past year.
A fire insurance policy, taken out by Morgans, dated 1878 gives the address as Earlham Road.
Also found in August 1871 as the
GATEHOUSE
, Hellesdon, when a complaint was made against licensee Daynes for assault.
Listed as the
HANGING GATE
1877
Samuel Mitson made an application, on Monday 24th August 1891, for a music and singing licence. The Chief Constable opposed on the grounds that there were pleasure gardens attached to the premises and did not consider it a proper place for a licence, certainly it was not required.
The Bench refused the application.
Found as the
GATE
to c1894, as the
GATE HOUSE
after 1894.
Original house destroyed by fire.
Present building built 1934.