Licensees :
-
JOHN COTTON
worsted weaver
1760 - 1764
Mr. T. WOODS
(Died Wednesday 2nd March 1808, age 65, formerly of the Gibraltar.)
pre 1808
JOHN BARKER
1810
JOHN CUSTANCE
1822 - 1836
LYDIA CUSTANCE
age 68 in 1841
1839 - 1842
ANTHONY FREDERICK WILLS
age 35 in 1851
1845 - 1864
JOHN KEEBLE
30.08.1864
Tuesday 16th October 1866 - Fine of 1s and 11s costs for being open for the sale of beer between the hours of three and five on the afternoon of Sunday 14th October.
WILLIAM MARTIN
25.03.1868
EDWARD BOSWELL
10.12.1888
WILLIAM HARRIS
07.05.1889
HERBERT ALFRED BAKER
12.05.1903
Convicted 14.08.1906 of selling to a child in an unsealed vessel.
Fine 2/6d or 7 days detention.
GEORGE THORNE EARL
10.10.1911
STEPHEN WILLIAM BOWEN
26.11.1912
JAMES WILLIAM DENNIS
25.11.1913
SIDNEY SAMUEL LEGGETT
11.01.1916
ELIZABETH KATHLEEN LEGGETT
21.11.1916
SIDNEY SAMUEL LEGGETT
03.02.1920
Convicted 18.03.1926 of selling out of hours.
Fine £2 or 21 days detention.
EDWARD JAMES ELLIS
05.04.1927
PERCY ARTHUR PARKER
21.06.1932
ERNEST MANN
19.06.1934
ARTHUR HERBERT ROPER
15.10.1935
ARTHUR ALBERT CLARKE
05.04.1937
ALFRED JOHN CURSON
07.10.1952
RICHARD GUNDRY
01.1977
CHRISTINE & ALAN COCKRILL
by 02.1977
CHRISTINE BRON
by 1988 - 1995
GRAHAM ANDREWS
1995
IRVIN & JO VERRETT
10.1999
RICHARD JAQUES &
DEBORAH WILLIAMS
to 2008
IRVIN & JO VERRETT
07. 2008 - 08.01.2010
SIMON SHIMMON &
PAUL THOMAS
07.2010
EVIE & TOM ROOD
by October 2012 to 09.01.2015
-
TONI HUTCHERSON &
DEAN BATH
by June 2017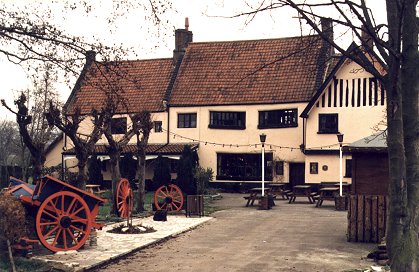 Image by Barry Wilkinson - February 1988

Earliest parts of building said to date from 1470.
Enlarged in 1550 and again in 1600.

Dates as a public house from the early 1700's.
Recorded in Norwich Land and Window Tax registers for 1753.

Villains broke in early morning of Tuesday 11th February 1783.
`They stole thereout a quantity of apparel and other articles and escaped undiscovered.'

On Monday 26th June 1786, a young man, bathing at Heigham, was recovered from the river, apparently drowned. The landlord of the Gibraltar public-house took him in and afforded every assistance. The young man walked home to his family the same evening. <Landlord not named in the report>


On Wednesday 1st November 1843, Mr. Wills, of the Gibraltar public-house, was accused of breach of promise or indeed a conspiracy.
Wills had been courting the daughter of Mr. Jonathan Burdett and made a promise of marriage. Miss Burdett had given him 20/- on the basis of the promise. Wills had subsequently declined to marry her and had not returned the money. Upon Mr. Burdett not wishing o proceed with action, Wills promised to restore the money.
John Keeble was granted a new full licence at the Annual Licensing Session, Tuesday 30th August 1864 however the name of house was given as the WOODBINE TAVERN, adjoining the GIBRALTAR. No other reference to the WOODBINE has been discovered and Mr. Keeble is named at the GIBRALTAR in 1865 and later.

Address as Upper Westwick Street in 1822.
Waterworks Road in 1883.
288 Heigham Street to early 1900's.
300 Heigham Street from at least 1912.

Grade II listed from 1954.
Described in 1955 as a `House of great antiquity'.

The Gibraltar Jazz Band, formed by Al Garner, performed in the gardens during the late 1950's and early 1960's.

Up to the late 1970's the public accommodation consisted of a small bar surrounded by timber panelling and a separate lounge.

By the 1980's virtually all the entire ground floor rooms had been incorporated into a single large open space.

Winner of three prizes in the August 1987 "Norwich in Bloom" competition.
Offering Bitter and Lager at 60p per Pint for a period of six weeks commencing 17th August 1987.

Closed from the end of 1999 to March 2000 for further extensive renovations which included a `Trebled pub area to give a Restaurant Pub'.

It was reported that the house closed during the week ending Saturday 9th January 2010 and that the landlords had left the country.
Reopened Friday 2nd July 2010.

Closed September 2018 following Ei Publican Partnership (Enterprise Inns) reportedly demanding a 100% increase in rent.

Scheduled to be open again by Christmas 2018, but `of course renamed' to the BRITANNIA GARDENS.