Licensees :
-
JOSEPH TRUNDLE
1761 - 1763
WILLIAM MANN
1764
JOHN AGGAS
(John Aggus 1783)
here April 1782 - 1797
SARAH MARTIN
1802
GEORGE RAMPLING / RAMPLEY
Went to GEORGE INN, St. Stephens
1806 - 1808
JOHN JUST
March 1808 - 1811
WILLIAM ATMER
See opposite
by October 1824 - 1830
JOHN WEBSDALE
age 50 in 1851
1836 - 1851
FRANCIS WEBSDALE
age 55 in 1854
1854 - 1859
ROBERT BAILEY
by 1861
AMELIA BAILEY
04.06.1869
HERBERT GEORGE GOFFIN
10.10.1896
WILLIAM HENRY HUBBARD
16.01.1917
LILIAN LOUISE HUBBARD
11.02.1936
JONATHAN VALENTINE CUMBY
17.11.1953
CYRIL PERCY SQUIRES
13.07.1954
WALTER RICHARD LAVERICK
08.03.1955
ALISTAIR MacDONALD FRAZER
19.07.1960
EDWARD KENDLE THACKERY
01.09.1964
??
07.09.1965
CHARLES GARROULD
15.03.1966
EDWARD KENDLE THACKERY
11.10.1966
LESLIE CHARLES JEQUES
02.09.1969
PERCY EDGAR RUSH
05.01.1971
KENNETH SALE
08.06.1971
ROGER JAMES SNEDDON
21.11.1972
PERCY EDGAR RUSH
(Brewery representative)
26.11.1974
RACHEL & BRIAN WILLIAM WARD
(managers)
07.09.1976 to
13.02.1977
PERCY EDGAR RUSH
(Brewery representative)
22.03.1977
CHRIS & MANDY PAGE
(managers)
02. 1977 - 1979
JAMES CRAWFORD PANK
21.07.1981
BRIAN RAYMOND LEE
30.11.1982
BRIAN PERKS &
DAVID THOMAS MANTON
26.11.1985
LESLIE ROBERT D............ &
DAVID THOMAS MANTON
09.09.1986
JOHN KEARNEY &
RICHARD JOHN O'SULLIVAN
26.07.1986
PETER GODDARD &
RICHARD JOHN O'SULLIVAN
26.07.1988
PETER GODDARD &
IAN McDONALD
14.02.1989
JOHN LEMMON &
PETER GODDARD
12.11.1991
GARY COLEMAN
14.02.1995
STEPHEN GEORGE SMITH &
PETER GEORGE CRONIN
08.08.1995
Period as RAT & PARROT then as HENRY'S 1996 - 2011
THOMAS REGINALD SMITH
(HENRY'S AT THE LAMB)
c2005
MICHELLE GIANADDA & CLIVE HITCHENS
(HENRY'S AT THE LAMB)
June 2010
LAMB INN from October 2011
MICHELLE GIANADDA & CLIVE HITCHENS
2011
OLIVER McERLAIN
manager
by 10.2017
-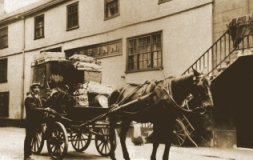 Image provided by Philip Standley.

Referenced 1574 as at Market Place.

Named the HOLY LAMB in early references, owing it is said, to have being `formed from the ruins of a nearby church'.

21 Haymarket in 1783

One of 40 houses named as being engaged for the Reception of Freeholders for Sir John Woodhouse and Sir Edward Astley's Friends on the Day of Election, Wednesday 14th April 1784.

Scene of a murder in 1797 when the licensee, John Aggas, was killed. It seems that the unfortunate innkeeper had found his brother-in-law in the cellar, providing free drinks to his friends.

~
One of 36 Norwich houses opened for the reception of Voters in the interest of Mr. Windham and Mr. Coke on election day Thursday 13th November 1806. The name of the Hundred for which the house was appropriated was to be displayed at each house.

~
John Just solicited the favours of the public, 25th March 1808, having just taken over the inn.
~

Mr William Atmer advised Agricultural Gentlemen and the public in general, that he had taken on the inn, October 1824. He had previously been at the FLEECE, Wells, but that was in October 1818 and he had sold all furniture and fittings of that establishment when leaving.

All Persons having Claims or Demands on the Estate of William Atmer, late of Wells next the Sea, and since of Norwich, Innkeeper, deceased, were to send their account to the appointed Solicitors within 21 days of 15th April 1831.

Address as 10 Gentlemans Walk in 1836.

For sale By Auction Monday 22nd August 1836.
In occupation of Mr. John Websdale as undertenant to Messrs. Youngs & Burt.
A Freehold property and a large sum of money having recently been laid out out in repair of the property.
The House includes Bar, Kitchen, small Sitting-room, Store-room, Porter-room, large Warehouse for Goods, excellent Dining and Sitting-rooms on the first floor, five principal Sleeping-rooms, two Servants' Chambers and Attic, and very extensive Cellars.

For sale by Public Auction Monday 7th September 1840 with excellent stabling for upwards of 40 horses, Gig-houses, Hay Lofts, Warehouses and Yards belonging. In occupation of Mr. John Websdale, undertenant to Messrs. Youngs & Burt, who hold the lease for an unexpired term of 3 years at an annual rent of £100.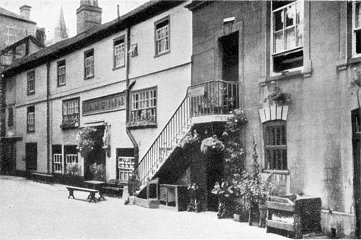 c1936

Damaged by fire 1939.

In 1972 Egon Ronay Pub Guide and again in 1977.

Offering a Business Man's Lunch from 50 pence and Sunday Lunches from 70 pence - In February 1973.

Extensively `renovated' 1980.
Wooden panelling was removed from the walls and dumped.
Reopened June 1980 after much expenditure with sawdust on the floor and glasses on open timber shelves above bar. Condemned by the health and fire authorities as a hazard. Closed and even more money poured in. Reopened with carpets and new bar fittings.
Before the refurbishment it was said to be the public house in Norfolk with the highest takings.

A Fancy Dress competition was held here Friday 18th November 1988 in aid of Children In Need. Wet T-shirt and Wet Y-front contests were to add dignity to the fund raising efforts.

External staircase, as shown in photograph above, removed by June 1989.

Scottish & Newcastle announced 10.10.1996 that the house was to be renamed the RAT & PARROT.
That enterprise lasted until May 2002 when the name HENRYS appeared on the outer gates.

Refurbished early October 2011 to reopen as the LAMB INN 20th October 2011 with official opening by Lord Mayor 26th October.
A £400,000 refurbishment reported October 2017