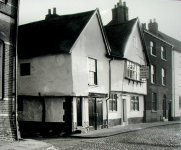 1958.
The
JOLLY WATERMAN
to at least 1830.
NEW STAR
1836 to 1957.
Mrs Ann Buttle of the
NEW STAR
was accused by shop keeper Royal Clarke of stealing his purse containing £19 10s. On Saturday 12th January 1867, Clarke had been at the house and had a drink and then went to Messrs. Harvey bank where he missed his purse. Returning to the public house he charged Mrs. Buttle with stealing the purse and she was arrested. Inquiries at the bank later ascertained that Mr. Clarke was so `fuddled' that he had left his money on the counter. The magistrates urged Mrs. Buttle to take proceedings against Mr. Clarke.......
6
⅜
barrels of beer sold in the final year of trading.
The proposal to demolish following closure was fought by the community. During discussions regarding the fate of the building one councillor suggested that the house had perhaps in the past been used as a brothel. The same councillor continued.....
`We do not want buildings like that in the City do we ?'
The ancient building was demolished (c1963) and a warehouse built on the site.
Licence held by S&P to 1964 when not renewed.