Also as the
THEATRE TAVERN
and the
OLD THEATRE TAVERN
.
7 day licence transferred from the
HOOP
11.02.1929
Closed 11.04.1960 but licence held until 1963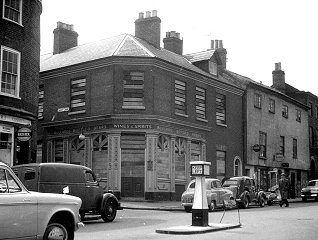 1960 - Soon after closure.
Image provided by Charlie & George Ducker.


About 40 members of the Night Watch, with Superintendant P. M. Yarrington, celebrated the marriage of Her Majesty to the Prince of Wales on Monday 10th February 1840 by dining here. The landlord, Mr. Stannard served up with the greatest conviviality and good feeling prevailed.
Her Majesty and her Consort were toasted with enthusiasm.
The party broke up at seven o'clock.
(Superintendant Yarrington went on to the BLACK HORSE to dine with the Police force members.)
Demolished and site included in that of the new library, later the site of the Forum.






House no. 136 on 1845 Magistrates list