Licensees :
CLEMENT POSTLE
1842
DAVID BACON
1845 - 1846
JOHN BAXTER
according to Slater
1850
CHARLES HUDSON
gardener
age 48 in 1851
1851 - 1861
JOHN PRATT
by 1863 to 1870
EDWARD MICKLEBURGH
04.11.1870
Mrs LYDIA MICKLEBURGH
05.01.1875
DONALD EDWARDS
10.10.1879
JOHN NELSON
10.10.1882
SAMUEL MORRIS
07.01.1884
CLARENCE FRANK SLANN
15.05.1908
ERNEST HUMPHREYS
05.04.1910
THOMAS RIX
16.07.1912
Convicted 05.07.1916 of failing to close against soldiers.
Fine 10/- or 7 days detention.
PHILIP CASE STEWARD
1920
GEORGE JOHN SMITH
06.04.1920
MABEL MAY SMITH
31.12.1935
BENJAMIN KNIGHTS
17.11.1936
ARTHUR MADDIESON
14.11.1939
SYDNEY VICTOR FRYER
05.04.1948
EVELYN FRYER
13.02.1951
ARTHUR HERBERT McNAMEE
15.11.1955
ALICE MAUD McNAMEE
20.07.1971
JOHN HAWKES & RAYMOND HARTWELL
18.02.1972
RAYMOND JOHN HARTWELL
11.03.1975
JOSEPH DOWD CORK
10.02.1976
KENNETH PEPPERELL
10.01.1978
BRIAN EDWARD GOSLING
08.09.1981
DAVID DONALD HOWARD
08.02.1983
ANDREW NEEDHAM
12.11.1991
PETER STERLING MURCH &
DEREK CHARLES TEALE
28.04.1992
KAREN JANE HALSEY &
MICHAEL HALSEY
10.11.1992
KAREN JANE HALSEY &
MICHAEL KENNETH HALSEY
09.01.1996
KEVIN JOHN WINES &
KAREN BEVERLEY WINES
12.01.1999
-
BRENDA GIBSON
01.2015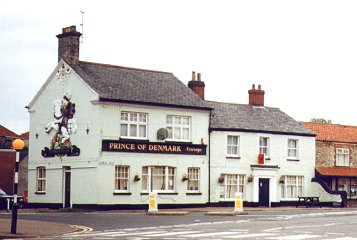 July 1996
The Prince of Denmark stood near Denmark Farm.
In 1782 Magdalen farm was in the tenancy of Robert Denmark, who died 1790, and title passed on to his son, William Denmark, who purchased the 33.5 acre farm in 1802. He died 1817 and the farm passed on to his son, also called William. The farm was then sold to Mary Anne Perowne c1850.
For sale by auction Thursday 14th July 1853. A freehold property with Yards, Garden, Stables, Play Ground, &c., &c.
It is reported that Theophilus Rump, a rate collector, occupied the farm house from 1891 and was in some dispute with the then landlord of the Prince of Denmark. The dispute was so fierce that Rump was supposed to be in fear of going out at night in case he was shot.
Prince of Denmark given as No 48 Sprowston Road to c1895.
As `Near Denmarks Farm' 1845
As at New Catton 1879 and 1904 (With 2nd entry 1904 at Sprowston)
Features concrete sculpture on outside wall, created by Moray Smith in 1930's
Morgans sales for 1960 given as, barrels of beer 464, spirits 64.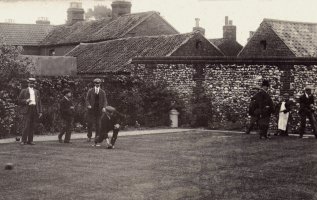 Licensee Samuel Morris on the green, 1906
Entered by Enterprise Inns, on behalf of Unique Pub Properties Ltd., during week of 25th October 2014 - Lease terminated and house closed.

Re-opened January 2015


Closed again, end of August 2017.