Licensees :
JOHN WATSON SMITH
by 1867
JOHN HUTCHINSON JONES
11.10.1880
WILLIAM ACOCK (Adcock?)
25.03.1890
THOMAS WILLIAM SETCHELL
20.11.1894
ROBERT FULCHER
11.02.1896
GEORGE ABRAHAM HARTILL
28.11.1905
LESLIE FREDERICK MALLETT
06.10.1942
STANLEY ARTHUR SPOONER
10.06.1952
ALAN HIPPERSON
24.07.1973
ALAN GEOFFREY BARTON
07.01.1981
RICHARD HARRY CARMAN
17.03.1981
ALAN & DORIS CURSONS
15.05.1984 - 1997
-
-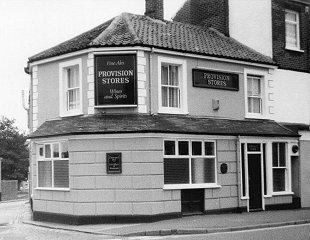 1984
John Watson Smith applied for a licence Tuesday 27th August 1867. Application refused with the Chief Constable saying that there were already four public houses close by.

First licensed 1868.

Mr. Edward Burton, applied Friday 24th August 1900 to sell beer in bottles, off the premises. He held a strong beer excise licence and thought that it would be better for parents to send their children to collect sealed bottles from a grocers, rather than a public house. The application said Mr. Burton was at the PROVISION STORES, but he does not appear in the licence register and it seems this was a brief break from the BURTON STORES . Application not granted.


Closed Saturday 2nd August 1997.
Renamed the
PEASANTS & POETS
cafe/bar.
Renamed the STORES by January 2002.

Closed February 2014