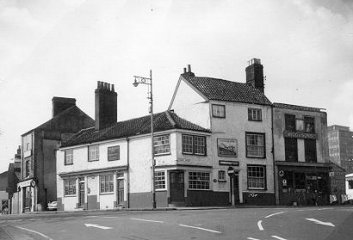 22.04.1967
Image by George Plunkett - shown by permission - Copyright © G.A.F.Plunkett 2002
Known as the
PLOUGH & HORSES
, 1760 to 1836.
Address as Golden Ball Lane in 1845,
12 Cattle Market Street in 1890 & 1896.

18 year old John Mendham, a lodger at the Plough and Horses, hanged himself on the premises, on the morning of Saturday 14th February 1835. The inquest was held at the house the following Saturday and returned the verdict of Temporary Derangement.

Closure due to war damage was confirmed to the licensing authorities by `Customs note ' dated 09.02.1943.
The house did not operate during the remainder of the war as a public house, but was used by the American Army as headquarters for the Military Police.

Re-licensed February 1946 and Morgans Brewery advised the Magistrates in a letter dated 05.09.1946 that `We wish to reopen the premises 01.10.1946'.
Morgans sales for 1960 were :-
124 barrels of beer.
83 spirits.