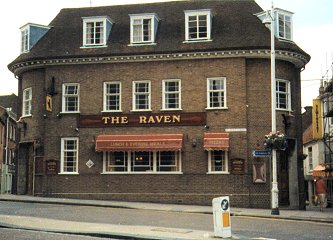 1985
Early opening licence (5:00am to 8:00am) refused at the Licensing Sessions as reported in the Norfolk Chronicle of 10.02.1906.
Severely damaged by enemy action 27/29th April .
(Revealing a gable thought to date from c1450)

Youngs & Crawshay advised the Magistrates by letter dated 08.02.1944 that they intended to re-commence trading from 11.02.1944.
Operated in the remnants of the building until c1955 when rebuilt.
Held a Market Licence to 1970's allowing opening on a Saturday afternoon to 5:00pm when closed for 30 minutes before reopening as normal for the evening shift.
Refurbished in 1985 and reopened as REFRESHERS.



House no. 250 on 1845 Magistrates list