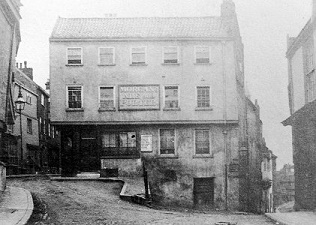 Given as the
PIGEONS
1806, 1807, 1810,1822, 1850 & 1854.
2 dwellings and a small Raghouse were included in the 1844 sale when Morgans purchased the premises. The site then being at the corner of St. Benedict's Street and Lower Westwick Street.

Advertised to let 27th April 1854 by application to Morgans Brewery. Described as well worthy of the attention of a person desirous of embarking in the Furniture Trade, or other, requiring spacious premises.
A provisional new licence was granted to Henry Morgan 21st August 1891 for a new house to be built on the South side of St. Benedict's Street in place of the old house which was to be demolished to allow `public improvement'.
New licence declared final 10th October 1892. (16 Charing Cross)

Became the offices and retail outlet for Barwell & Co following the destruction of the St. Stephens premises in 1942.
BARWELLS WINE VAULTS.
but bar still known as the PIGEONS

House renamed the HOG IN ARMOUR 1977