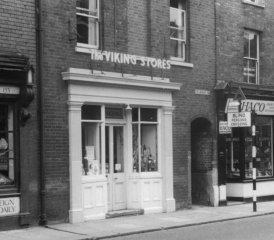 1958
The second
VIKING STORES
to operate in Magdalen Street, this one from 1957 to at least early 1961.
Located in the former
TWO BREWERS.
(The other
VIKING STORES
operated from the former
RED LION
)
Morgans advised the Magistrates by letter dated 22.01.1958 that
`the business at these premises has now been changed mainly to that of an off licence which we are calling the
VIKING STORES
and which opened under that name last month.'
Morgans sales for 1960 were 28 barrels of beer, 183 spirits.
Licence not renewed 1962