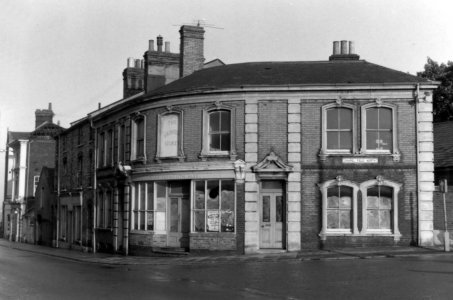 c1969 image by Jack Roberts - via EEN
Awaiting demolition.
At the Annual Licensing Meeting 28th August 1866 Frederick Scott applied for a new licence for a house recently built at the corner of Chapel Field Road directly opposite the Drill Shed. The Chief Constable opposed the application on the premise that there were sufficient public-houses already in the area - Application refused.
Licence granted upon application Tuesday 27th August 1867.
Advertised To Let 14th October 1871, situated opposite the DErill hall and with excellent Stables. - Apply to J.B. and H. Morgan, Brewers, Norwich.
~
Freehold (was) owned by the Lord Mayor, Alderman and the Citizens of Norwich.

Premises closed 1964 - Licence not renewed.
Demolished 1969 to allow building of the inner ring road.
The original bar was removed from site and reused at the
BYSTANDERS CLUB.