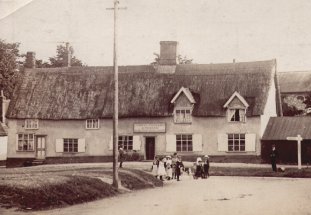 c1910
The Norfolk Chronicle of 13th April 1782 reported ......
To be Lett, and entered upon immediately, that old accustomed House known by the Name of the
CROWN
, at Pulham Market, Norfolk, now in the Occupation of Mr Humphrey Baley; consisting of a kitchen, two Parlours, and six Chambers, also a very good Brewing-Office, Stable, and other Conveniences. The household Furniture, Brewing Utensils, and Stock, to be taken at fair Valuation.
Lot No. XVI in the sale of Harleston Brewery properties 3rd July 1828.
In occupation of William Neave.
In 1836 the Board of Guardians for the Depwade Union agreed to pay Mr. Neeve, landlord of the Crown, £12 per annum for the use of room, stabling and hostler, this being their choice for board meetings.
Offered To Be Sold By Auction, Thursday 2nd January 1840.
Possession at Michaelmas.
Apply to Mr. Neave, the Proprietor........(Lot No 1)
Notice was published 4th March 1843 that William Neave had conveyed and transferred all of his Estate and Effects to Trustees for the equal benefit of his Creditors.
Offered for sale by auction April 1843
"For many years past in the occupation of Mr. Neave : comprising a well-situated bar, large kitchen, and every suitable domestic office...."
As reported 3rd October 1868 the police had recorded that a great deal of drunkenness and disorder had been recently going on in the house. Not long previously, a drunken man had been robbed by a sweep. The conduct of the house had since been much improved and the licence of Mr. Barkham was renewed on trial.
Lot No. 19 in the sale of the Diss Lower Brewery Thursday 30th March 1876. Purchased by Youngs, Crawshay & Co.
An application for alterations and improvements was approved on Friday
22nd September 1949.
No change recommended at First Joint Committee Meeting of Bullards and Steward & Patteson 29th May 1962.
Sales given as 129 barrels.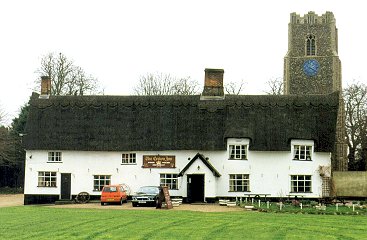 February 1998
Freehold sold for £295,000 by December 2014.