Licensees :
PERCIVAL SELF
1840
JAMES NEAVE
1843
DAVID DODD
age 44 in 1851
& carrier
1850 - 1864
GEORGE BOND
1865 - 1869
CHARLES ALDOUS
1871 - 1872
JOHN RANDALL
1875 - 1904
GEORGE FICKLING
& jobmaster
& jewellery agent
1908 - 1912
Mrs EMMA FICKLING
1916
ERNEST EDWARD DIXON
1922
ERNEST ISAAC TURNER
1925 to 1940
Mrs CAROLINE TURNER
15.03.1940
GEORGE ROBERT RAYNER
manager
12.04.1940
BASIL WILLIAM JUDE
26.04.1940
JOHN HENRY WILLIAM WOODHOUSE
13.05.1949
SIDNEY FREDERICK HILLING
13.09.1957
JOHN RAYMOND BURROWS
undated
(by 1967)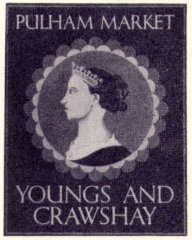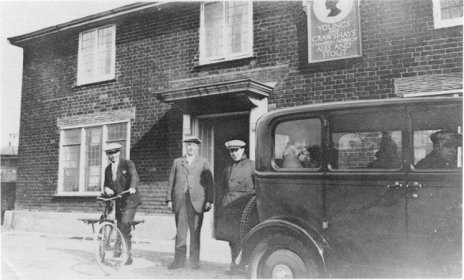 Ernest Turner (next to chap with cycle) & customers.
Image provided by Richard Myhill.


Offered To Be Sold By Auction, Thursday 2nd January 1840.
Recently erected, sash-fronted and well accustomed.
In occupation of Mr. Percival Self.
Containing an area of about Four Acres and adjoining the Depwade Union Workhouse.
Possession at Michaelmas.
Lot 2. Apply to Mr. Neave, the Proprietor (at CROWN)

For sale by auction April 1843.
Then described as recently erected and sash fronted, near or adjoining the Depwade Union workhouse. With Capital Barn, Outhouses, Stables, Yards and Gardens all within a ring fence, containing Four and a Half Acres.


Lot No. 20 in the sale of the Diss Lower Brewery Thursday 30th March 1876. Purchased by Youngs, Crawshay & Co.


No change recommended at First Joint Committee Meeting of Bullards and Steward & Patteson 29th May 1962.
Sales given as 92 barrels.

Richard Myhill advises :- Ernest Isaac Turner, and his wife Caroline were the landlords of the Queens Head from 1925 until their death in 1940. He died on 03.03.1940, in the Queens Head, and she died 16.03.1940 in the Norfolk and Norwich Hospital.
(The day after the licence was granted in her name).
An application for alterations and improvements was approved on Friday
22nd September 1949.



Caroline & Ernest Turner.