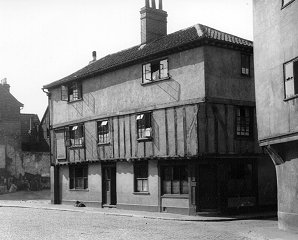 13.09.1934
Image by George Plunkett - shown by permission - Copyright © G.A.F.Plunkett 2002
Location of the
TYGER
is given as Tombland in 1717.
Possibly relocated to this address in mid 1700's since the
TYGAR
/
TYGER
is given at St. Edmund in the register commencing 1760.
Listed as the
WOUNDED TIGER
in 1850 & 1853
All Creditors and Debtors to the late James Moy were asked to settle their accounts in an announcement dated 19th May 1859.
Address as Cowgate Street in 1868 and as at Cowgate in 1872.
Licence removed to the
OVAL
by special grant 01.09.1936.