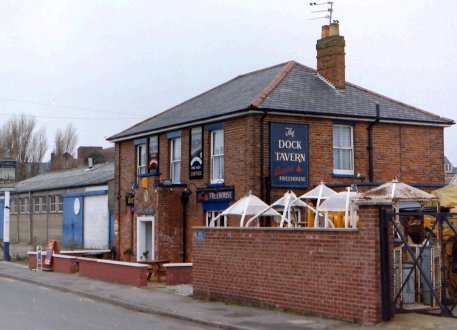 23rd January 1993
A Freehold property in occupation of Mr. Hewson, for Sale by Auction Wednesday 31st July 1867. A beerhouse `situate next the Old Ice-house and near Hewitt & Co.'s Dock.'
Wednesday 22nd August 1878 - Mr. James William Courtman applied for a wine licence, on and off the premises. Application refused since he did not appear in court.
Thursday 21st August 1879 - Mr. Courtman applied for a licence to sell wine on and off the premises - granted.
On Friday 8th July 1870, Robert Allman (18) was sentenced to six months' hard labour having pleaded guilty of stealing 3s 6d from the till of licensee Mr. Ratcliffe.
Address as Riverside 1883
At the Police Court, Tuesday 3rd January 1922 it was heard that the incoming tenant, Mr. Stubbs, had served on a minesweeper during the war as a skipper. He had been awarded the D.S.C. for sinking a German submarine and capturing the crew. The Italian Government had also awarded him a silver medal for valour.

Closed for the duration of the hostilities as letter dated 01.10.1940.
House reopened 07.12.1948

Full licence granted 8th February 1957.