Licensees :
.
JONATHAN BOWLES
according to Pigot
1839
MARY KING
according to Robson
1839
JOHN BENJAMIN DAY
1844 - 1846
MARY ANN DAY
age 52 in 1851
1850 - 1851
JAMES HOWARD
& saddler & harness maker
1854 - 1865
Monday 26th November 1860 - Fine of 5s for allowing people to assemble and drink in house at illegal hours, the previous day.
JOHN BENJAMIN HAINES DAY
Age 47 in 1871
1868 - 1890
Friday 28th May 1871 - Fine of 1s and 10s costs for striking his servant, Elizabeth Gravenell, who had slapped one of his children.
DAY & Son
1892 - 1896
ROBERT ARTHUR DAY
Killed by accident 15th November 1906 - age 42 - see opposite.
by 1900
KATHERINE MARIA HAINES DAY
(Kate Day 1908)
11.01.1907
KATHERINE MARIA HAINES FINCH
20.06.1913
REGINALD WILLIAM BURGESS
14.12.1937
HARRY BURGESS
27.08.1940
CHARLES THOMAS BANHAM
18.08.1953
ERNEST WILLIAM GILES
07.12.1954
MAURICE MANSELL (manager ?)
(by 1955)
GEORGE WALTER GILES
16.12.1958
PETER ALAN THOMAS
07.02.1964
FREDERICK ERNEST GIBBENS
31.10.1968
CECIL ALFRED CHAPMAN
10.12.1970
CLIFFORD HARRY SILLIS
11.12.1975
GEORGE CHARLTON HODGE
08.07.1976
WILLIAM BURROWS
29.07.1977
IAN CONNON
1985 - c1989
-
MAUREEN BROWN
1997
-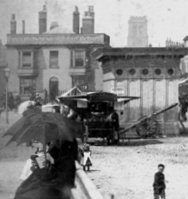 c1895 - Viewed from the Jetty.

Originally JACOBS WELL to c1845?

Rebuilt to become the BARKING SMACK HOTEL.
(Features a date stone - 1845)


The wash house, kitchen and bar chimneys were blown down by a great gale, at 8:30 am on Wednesday, 4th January 1854. Landlord Mr. Howard received serious injury to his knee joint. The debris fell upon the windows and wash-house of Mrs. Bowles in the adjoining premises.
Address as Jetty Road in 1854.
As `Opposite the Jetty, South Beach' in 1856.

At St. Peters Road 1869.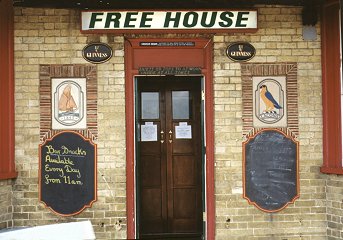 1997


On Tuesday 14th November 1905, a man named James Houghton (A cabbie) appeared before magistrates in Doncaster, charged with obtaining board and lodgings at the Wood Street Hotel, Doncaster, by false pretences. Claiming to be Mr. Day of the Barking Smack, Yarmouth, he had entered the Wood Street Hotel on Tuesday 31st October 1905 and said he would depart on the following Saturday. He had supper on the Tuesday night, a beefsteak breakfast and a roast meat dinner on the Wednesday. He brought eight friends to tea, and after tea ordered four bottles of champagne and 45 cigars. The next morning he ordered a ham and egg breakfast, went out to get shaved whilst breakfast was prepared, and never returned. The sum owed was £4 2s 6d.
Mr. Robert Arthur Day said that he and his father and grandfather had kept the Barking Smack Hotel for some sixty years. The defendant had no right to use his name. Houghton was committed to take trial at the next borough sessions.

~

On the afternoon of Thursday 15th November 1906 Mr. Robert Arthur Day was coming downstairs from the dining room, accompanied by his four-year-old son.
It appeared that he lost his footing and the pair fell to the bottom of the stairs. Mr Day suffered a fractured skull, but his son was unhurt. The stairs were carpeted but the floor was stone flags. The doctor attended until after eleven that night, doing everything he could. Shortly after arriving home, the doctor was informed that his patient had died.