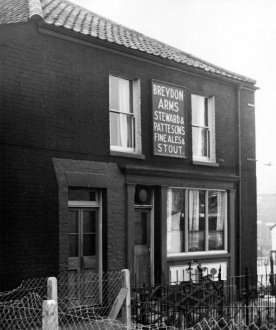 c1950
On Friday 13th January 1905 the licence was transferred and it was stated that the rent was £30 per year.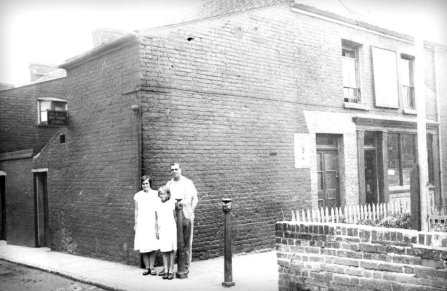 H. W. C. Smith and daughters.
Image thanks to Steve Smith.

On Monday 24th March 1924 it was heard that beer licence duty of £21 13s 4d and the additional compensation fund levy of £15 had not been paid by Mr. Larkin. Furthermore the tobacco licence of 5s 3d was unpaid. All had been due on 1st October 1923 and a reminder, posted 27th December had been ignored. On 25th January 1924, beer and a packet of `Gold Leaf' had been purchased at the house. Larkin said that he had sent his wife out with 6d to buy the packet of cigarettes from a neighbouring shop.
The Commissioners of Customs and Excise elected to sue for a £50 penalty on each offence and asked that the penalty be no less than £36 18s 7d.
Larkin said that owning to bad business over the previous three years he had lost everything. He had sold his furniture in 1922 to pay for licenses and rates. In 1923 he had sold his piano.
The case as adjourned one week to allow Larkin and Messrs. Steward & Patteson
On Monday 31st March 1924 it was heard that the outstanding fees for beer and tobacco licenses had been paid by Steward & Patteson, who, had given Alfred Larkins notice to quit on 24th April. The owners said that house had been badly managed and the trouble originated in domestic extravagance, not due to gambling, drinking or any vice of the tenant. During the war Larkin had been employed at Woolwich Arsenal and the house had been run by his wife. It had got in to debt and when he returned, he attempted to turn the situation round, but gradually the situation became worse. The till had been used for anything wanted, without regard to the commitments to be met.
Larkin denied selling tobacco, but admitted that if somebody gave him the money, he would send out for `Woodbines'.
It was said that the house had been in the family for 36 years and they had been much respected.
Recognising the poverty of Mr. Larkin the magistrates fined him £5 in respect of the beer licence and 10s in the tobacco case. He was given two weeks to pay.
Damaged by enemy action during WWII.
Compulsorily closed 10.02.1967.
128 7/8 Barrels of beer sold in the final year of trading.
Last day of trading 9th February 1967.
Compulsory purchase 3rd April 1967