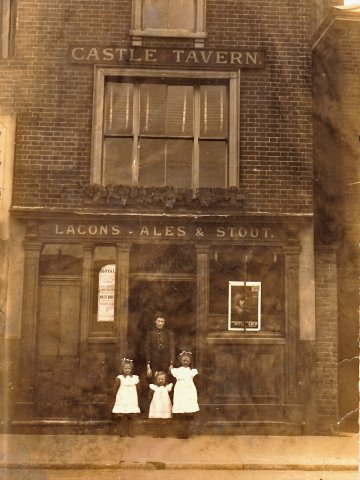 The Castle Tavern 1912.
Eleanor Gibbs with her three children.
Image thanks to Phil Gibbs September 2013
42 Caister Road in 1871
105 Caister Road in 1886
George Francis applied for a full licence Tuesday 6th September 1859 but did not attend the magistrates hearing and so it was refused.
George Francis was fined 5 shillings on 21st May 1860 for having his house open and permitting persons to be drinking therein, at illegal hours on the previous Saturday night and Sunday morning.
At the licensing Sessions held 2nd September 1862 the application by George
Frances
for a (full) licence was refused. The property then described as a beer-shop.
On Monday 18th July 1864, George Francis was accused of keeping his house open for the sale of beer at 11:35 on the night of Saturday 16th and of abusing the constable who had entered the house to find three persons drinking. In defense it was said that it had been stated in a previous case, by Lord Chief Justice Cockburn, (
as reported in the Law Times
) that no landlord was bound to turn out his customers at twelve o'clock. The representative for Mr. Francis said it was not for the licensee to prove his innocence but the prosecution had to prove the beer was sold after eleven o'clock.
The case concluded with Mr. Francis being ordered to put 5s in the poor box.
Referred for Compensation 3rd March1914.
Licence renewal refused 24th July 1914.

Licence expired 27th April 1916