Licensees :
CHARLOTTE BUTCHER
age 41 in 1851
1850 - 1851
Licence renewal refused 1851 and again (applicant Mr. Butcher) Thursday 26th August 1852.
CHARLES BARNABY
1854
JOHN GOULDER
1856 - *1858
(Full) licence application refused Friday 5th September 1856, as were all applications from 14 others.
JOHN BEVERLEY
1862 - 1869
WILLIAM BRISTOW
Age 42 in 1871
1871 - 1875
JAMES WRIGHT
1877 - 1879
HENRY BEECHING
1883 - 1886
RICHARD HOLMES STARLING
1888 - 1896
CHARLES D. TURNER
1900
FREDERICK ALBERT BLAXELL
by 1901
FRANK POWELL
17.08.1906
ROSE POWELL
06.11.1928
ALFRED WILLIAM GABLE
12.11.1936
AUDREY STAFFORD GABLE
12.12.1939
HARRY BURGESS
21.10.1941
WILLIAM FOLKES GODSIFF
07.09.1946
FREDERICK FOSTER
04.02.1966
JACK PRICE
25.07.1968
JOHN ROBERT GILBERT TRAYNIER
03.04.1975
HERBERT STONE
04.09.1975
-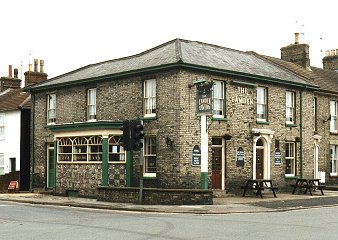 2001
Near Lunatic Asylum 1856.
Asylum Road 1850.

17 Queens Road 1886
John Butcher, husband of Charlotte Butcher had his licence application refused September (1851?) and again upon appeal October 1851. He had applied to take over the house because Mrs. Butcher, who held the licence was living in a state of `concubinage' with Robert Barnaby. Barnaby had also applied for the licence but his bad character had prevented it. Barnaby denied that he knew Mrs Butcher as a prostitute.
The Bench were reminded that three convictions were required to refuse a licence and although Mrs Butcher was in a state of `concubinage' with Barnaby, they could not interfere.
Order dismissed with costs.

At the sessions held Thursday 2nd September 1852 Mr. Butcher again applied for licence renewal, four magistrates were in favour of granting the suspended licence and five against it. On a show of hands the licence application was refused.
At the Licensing Sessions held 2nd September 1862 it was heard that it was kept by John Beverley. The (full) licence had been previously withdrawn from Mr. Barnaby since he was not married and not a fit and proper person to keep the house.
Since Mr. Barnaby no longer had any interest in the house and because the current applicant was said to be a respectable man he was fairly entitled to have the licence renewed.
The Mayor said that there were four similar houses within one hundred yards of the CAMDEN ARMS and if a licence were granted here, they would all want one.
Although it was said that there had been no convictions against the house, the Mayor affirmed the contrary. The licence was refused.


Closed for the duration of the war according to a letter dated 22.08.1941, however the house reopened 28.07.1942 owing to the closure of the QUEENS ARMS due to enemy action.