Licensees :
-
-
JOHN BAKER FARROW
*1868 - 1871
JAMES WETHERILL
(1883 according to PO Directory)
*1875 - 1883
Mrs SARAH M WETHERILL
(1883 according to White)
*1883
CHARLES CARRIER
Age 34 in 1891
1886 - 1894
CHARLES WILLIAM BASE
1896 - 1900
WALTER GEORGE BASE
by 1901
WILLIAM THOMAS POWELL
14.10.1904
FRANCIS WILLIAM EATON
05.03.1912
JOHN STANLEY MEAD
08.06.1920
RICHARD TURRELL
11.03.1938
GLADYS HILDA VICTORIA TURRELL
06.07.1948
GEORGE FREDERICK LOUIS GATES
04.10.1955
STELLA IRENE MARY GATES
31.10.1967
PETER ARTHUR ROBINSON
01.02.1979
-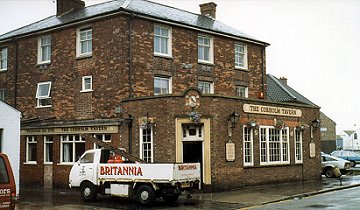 1986
Mill Lane 1869, 34 Blyth's Buildings 1871

Sold by Auction September 1884 for £730 with fixtures at £24 17s 6d.

72 Mill Road in 1901

Licence renewal withheld, at the request of Messrs. Lacon, Friday 18th February 1938 pending removal and surrender. Decision to be made at adjourned sessions 11th March 1938.


Full licence granted 17.10.1950
upon removal from the WHITE SWAN, South Quay.
Observed closed 2014.