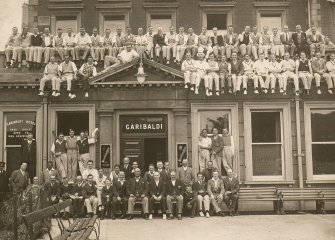 c1930
Joseph Powell became licensee of the
GARIBALDI TAVERN
c1880.
The house was then said to be so insignificant that it was often obscured by smoke from trains at the nearby Beach Station.
Mr Powell extended the property to allow accommodation and by 1899 it was a boarding house with four floors.
The Victorian building initially offering accommodation to men only.
Cheap holiday accommodation was a specialty.
Apparently the male guests were known as ` The Yarmouth United Lambs ' who had a captain to respond claims of rowdiness. By 1883 the first annual dinner of `Joe Powell's Lambs ' was held at the Holborn Restaurant, London, Joe Powell being the principal guest for many years.
Joseph T. Powell applied for the spirit licence to be transferred from the
WILLIAM TELL
Thursday 22nd August 1888 - Granted.
Closed for the duration of WWII according to a letter dated 26.07.1940.

Severely damaged by enemy action.

Reopened 01.07.1946.

Bar known as PATCHES in 1980's.

DEMOLISHED during 2006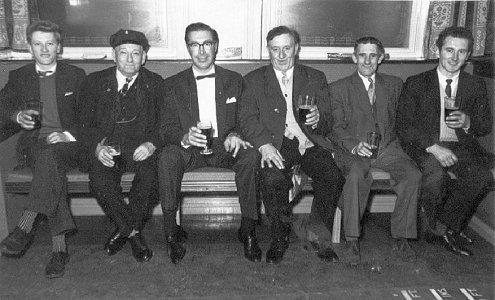 Roger Harvey, unknown, licensee Gordon Edwards, Sonny Harvey, unknown & Ivan Harvey.

1960's image thanks to Robin Harvey.