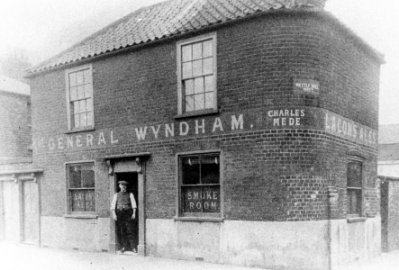 Charles Mede at the door?
Although not seen in licence registers, his name appears on the building and in trade directories during 1920's.
Image thanks to Colin Tooke.

Harriet Horn applied for a full licence Tuesday 6th September 1859 but did not attend the magistrates hearing and so it was refused.
The Norfolk Chronicle of 20th September 1862 reported that
Elizabeth
Horn, of the General Windham beerhouse, was ordered to put 5s in the poor box for having the house open on Sunday 14th September, during divine service, with persons drinking within.
it was reported that the licensee of the
WYMONDHAM TAVERN
, Nettle Hill, was warned Thursday 27th August 1874, that unless the house was better conducted, the licence would be withheld the next year.
Also found as the
GENERAL WINDHAM
.
The Chief Constable objected to licence renewal Friday 18th February 1938.
Closed for the duration of WWII according to a letter dated 01.10.1940.
Reopened 25.08.1945.